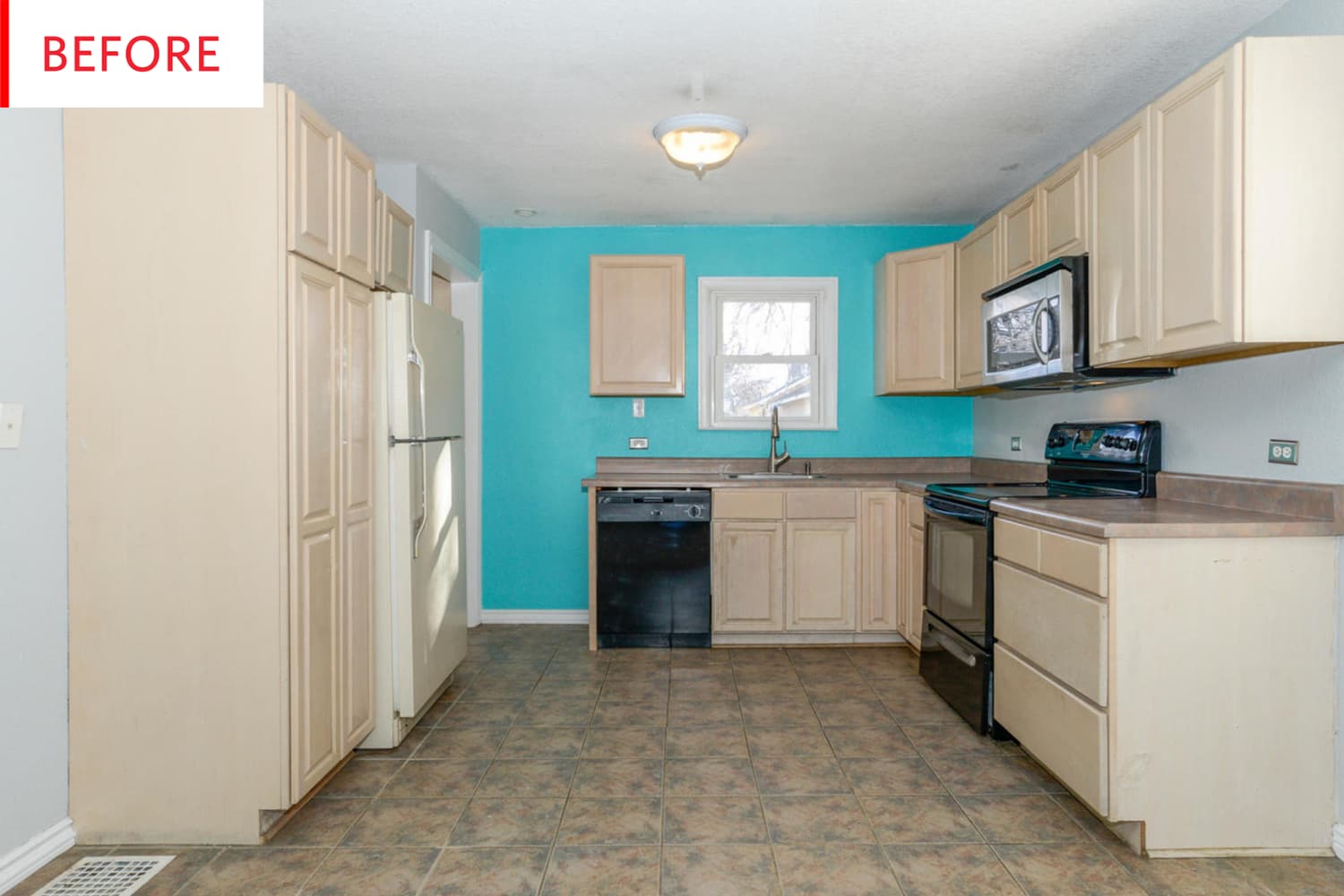 This kitchen has lots of counterspace and TONS of storage (although, what's with that lonely floating cabinet), but it has a few issues, "ugliness being the main one," according to the homeowner. IKEA to the rescue!

Argh, the new green storage piece is so fabulous! It's like an enormous green gemstone set in the kitchen! Applause to Tabitha Shakespeare of Tabitha Lane for a bold move. The limited palette and classic materials of the rest of the kitchen don't compete with the blue-green, while definitely holding their own, design-wise. The new floor is lovely—the pale wood is an excellent companion to the blue-green, while the orange-red rug complements it perfectly. Meanwhile, the new gleaming stainless steel appliances are more unified than the previous cream, black, and stainless combination. I think it turned out great, but how does Tabitha feel about it?
I could not be happier with the end result! It's clean and modern and so functional in the space! The only thing I wished we would have done is create a space for the trash can.
I knew from the beginning that I wanted an IKEA kitchen because the storage options can't be beat and since its such a small space I wanted to make the most of it. You can check out our post about designing and ordering our IKEA cabinets here! I also knew that I didn't want to do white cabinets because it's a small space so I looked for ways to create drama wherever I could.
"So I looked for ways to create drama wherever I could" is an amazing approach to decorating—and life.
While I very much prefer these pale wood cabinets to the aggressively honey ones we usually see, the kitchen's drab countertops, murky floors, and two shades of paint were not doing them any favors. It would have been interesting to see this kitchen made over with the cabinets left as-is (generally I'm firmly pro-Paint It), but I totally understand why Tabitha wanted to completely overhaul the room:
There were a lot of issues with this kitchen (ugliness being the main one) but one thing that I HATED was that there was no separation between the living room and the kitchen. The L-shape also left a lot of wasted counter space and because there is no dining area in the house I knew that I wanted figure out a way to create some seating. In the end we decided we were going to have to gut the whole kitchen and start from scratch.
It's tempting to bemoan the lost cabinet space, but the new island adds storage, and the new "pantry" looks to be similar in size to the old unit.

All of the new shelves add storage too, obviously. I like the way they frame the window, and improvement over the original cabinet layout. The black grout, brackets, and sink add a nice graphic touch as well. You'd never know that the project didn't go perfectly smoothly:
It was a lot of work, and it took a really long time—especially because we had some financial obstacles that we needed to address before we could purchase the countertops. We had cardboard countertops for a while but it was so worth it! In the end the entire project costed about $7,000 total.
I am thankful to Tabitha for sharing her situation, and for the lesson that living with something less-than-ideal is something many of us deal with, and that it can be worth it to delay purchases to get what you truly want.

If you're debating buying pretty dishes and glassware, remember that they can double as decoration. There are some beautiful pieces on these shelves, and they all serve a purpose—even that darling cup that corrals bar accessories. The shelves' nice wood and interestingly faceted brackets mean that these shelves will look great even on less-styled days.
Having gone through the process of designing a kitchen around IKEA products, Tabitha has some advice to share:
Don't settle! I had a lot of asks for this small space and I wasn't willing to compromise. Even though I'm not a big fan of cooking, the kitchen is still the heart of the home (and you see ours as soon as you walk in the front door). The kitchen designer at IKEA kept telling me that this wouldn't work, or we don't have enough space for that, or am I sure I want two different colors of cabinets? But I knew what I wanted and I wasn't going to be bullied into settling just because it might take some "custom cuts."
Be sure to check out all of the photos and behind-the-scenes info on Tabitha Lane!