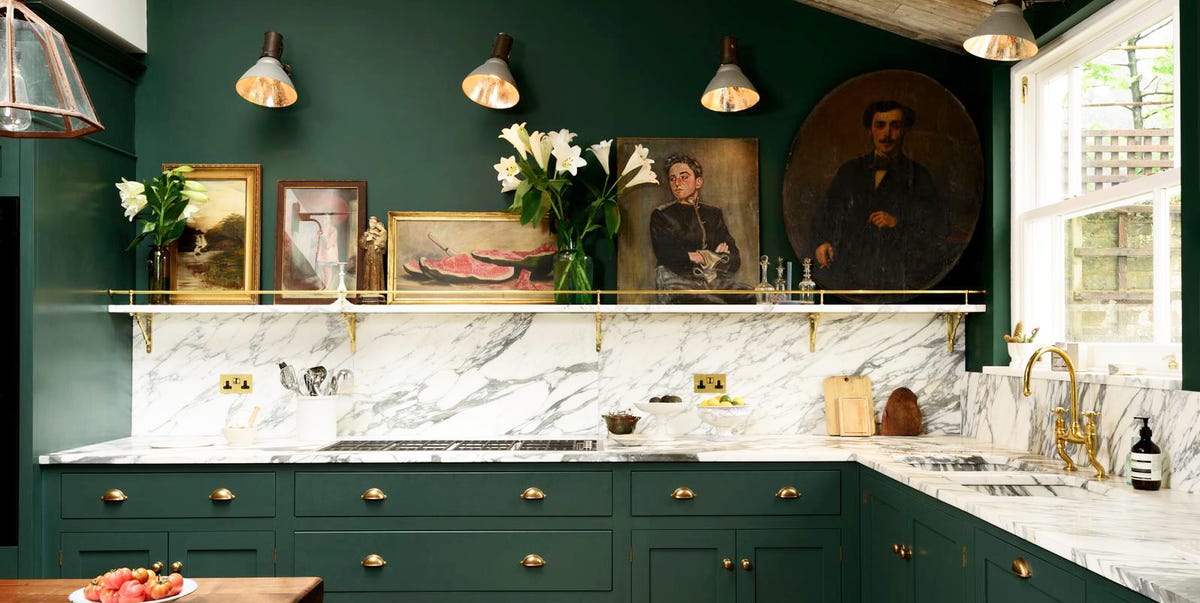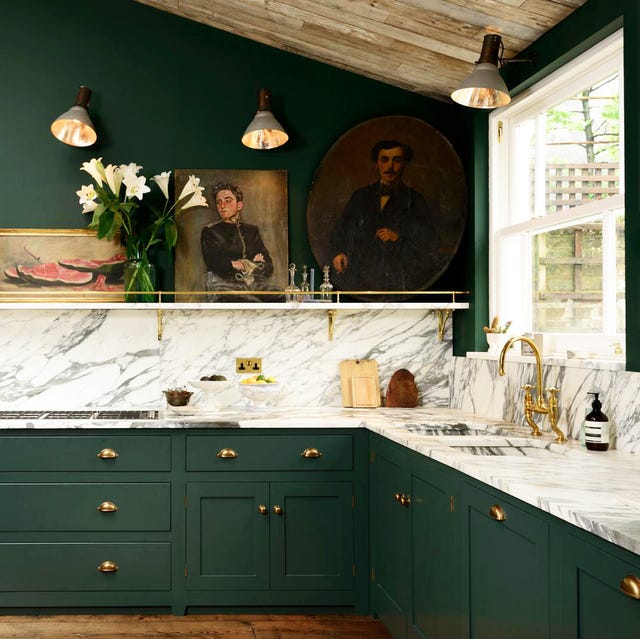 deVOL Kitchens
The kitchen is probably the most used room in your house, so you want it to be a space you enjoy spending time in. And aside from functioning appliances, a kitchen design you'll love for years to come is of utmost importance. So whether you're renovating or simply looking for some inspiration, we found 85 kitchen ideas that will help you optimize your own—and the best lessons to take from them. From country casual to sleek and modern—and literally everything in between–we've got all the kitchen remodel inspiration you could ever need. Gorgeous countertops, unique backsplashes, and statement lighting, we're coming for you.
Never Underestimate the Accents
Now this is how you light up a room. In this Parisian apartment by Studio Razavi, the dramatically large, undulating pendant opens everything up in one sweep. A fun magenta carafe adds a pop of color to the industrial kitchen.
1 of 85
This Eric Olsen kitchen has serious tile game. If you live by the coast but want something moodier or you simply love blue, take not from the rich navy, gray, and cobalt tones throughout.
2 of 85
Create a Pattern With Backsplash
The pattern of the tiles in this kitchen by Studio DB changes ever so slightly as it crawls across the wall, creating a unique and chic non-repeating pattern.
3 of 85
Add Greenery
No room for a greenhouse or garden in your home? Start a mini plant collection in the kitchen instead. This way, you can exercise your green thumb and liven up the room (bonus: plant herbs for a truly useful indoor garden). In this kitchen designed by Hecker Guthrie, the glass cabinets add interest without making it feel cluttered.
4 of 85
Go Wild
Lacquer, marble, tiles, oh my! This fabulously over-the-top kitchen designed by Michelle Nussbaumer isn't afraid to have fun. For a similar look, choose a backsplash that corresponds with the kitchen island and then use tile on the floors.
5 of 85
Embrace Existing Quirks
Rather than seeing the exposed pipe in this kitchen as a design flaw, Studio DB saw an opportunity for a fun pop of red. Now it looks like an edgy, industrial, unique, and colorful accent that anchors the kitchen and puts the stylish breakfast nook in the spotlight.
6 of 85
Forgo Closed Cabinets
Hang cloth curtains in front of your bottom shelves to hide storage essentials instead of opting for classic cabinets—like in this boldly-colored kitchen architect Viola Simoncioni created for her own home. It feels decidedly more retro and adds some movement.
7 of 85
Keep It Unfinished
The exposed brick walls add an undone, laid-back feel to this kitchen. Instead of covering them up or refinishing them, let your original architectural details stand out.
8 of 85
Paint Your Interior Cabinets
An inky, marine blue will ground a kitchen in an open space and feel more formal than a light color without being as moody and as dark as black. We also love the idea of painting the interior cabinets a color that corresponds with an accent piece in the room, like this orange cabinet designed by Arent & Pyke to match the carpet.
9 of 85
Cheer Things Up
Take note from this space designed by Leanne Ford Interiors and paint your kitchen a subtly sunny hue, like buttercream yellow. Then lay down an area rug with pops of coral for a fresh, bold anchor. The large drum pendant in white and gold speaks to the pretty paint color, too. Delicate and delightful.
10 of 85
Rethink the Tile Pattern
For this Los Angeles kitchen, Jenn Feldman Designs chose a tonal grout to blend in with the navy tile, which is set in a refreshingly unexpected chevron pattern. It feels unexpected and interesting but fits in well since it matches the lower cabinets.
11 of 85
Go Big With Open Shelves
Have fun with open shelving, stacking plates and adding items that bring personality to the room as a whole. Try framed photos, candlesticks, and art. The retro red appliances are also definitely worth investing in if you love color and nostalgia.
12 of 85
Paint a Statement Wall
Instead of painting all of the cabinets or walls, experiment with color on a statement wall. This sage green pop in a kitchen designed by Studio DB adds the perfect amount of personality. Green glass shelves and a large green bowl tie back to the unexpected color.
13 of 85
Lacquer Your Cabinets
Go glam with a high-gloss deep red reminiscent of wine. The robust, full color adds so much depth and glamour. Proof? This kitchen by Nick Olsen, where geometric tiles pump things up to the next level.
14 of 85
Pull Up a Bistro Table
The light wood tones and metallic pendant warm up the otherwise cool space in this kitchen designed by Hecker Guthrie. This space also proves that a bistro round bistro table situated over the island makes a classic kitchen layout so much more interesting. And it's even fresher when you paint your bar stools a buoyant shade of mint green hue and hang a copper pendant light overhead.
15 of 85
Play With Pattern
If you've got space between your cabinets and your ceiling, you've got storage. Add wicker baskets and it's the perfect spot to keep lesser-used tools. In this kitchen designed by Michelle Nussbaumer, she chose a vibrant ikat print to embolden the entire area.
16 of 85
Alternate Finishes
We're really digging the alternating black and gray stained wood cabinets in this deVOL kitchen. The varied tones (plus texture) adds interest to a neutral space. The sandy beige walls keep things neutral but warms thing a little more than a crisp white or super light gray. The shearling chair cover warms up, too, and the interior window creates flow and spreads the light.
17 of 85
Accomodate the Pets
Designed by Matthew Quinn, this kitchen island was customized with a dog bed to accomodate the family's best friend.
18 of 85
Use Your Surroundings as Inspo
This coral pink kitchen is like being on vacation all year long. With rattan and bamboo staples and a fresh coat of cheerful pink paint, it's quirky, upbeat, and unique without being too over-the-top. If your home is somewhere warm or tropical, follow suite.
19 of 85
Go For Gold
There's nothing quite like metallic to make your interiors pop. Opt for a brushed gold finish on the kitchen cabinets and introduce more down to earth materials like jute to make sure it isn't too flashy, like in this Arent & Pyke-designed kitchen.
20 of 85
Go Retro
This retro-inspired deVOL kitchen is a beautiful blend of classic English design with contemporary functionality. The glass cabinet customized to fit right into the corner and looks beautiful with the baby pink paint and Kelly green backsplash. And of course, that wood-burning fireplace drives home the charm.
21 of 85
Hide the Pantry
If your panty is basically just the kitchen cabinets and exposed in plain sight, consider installing a sliding door that tucks them away and brings in new depth. This tall black sliding door in a Robson Rak-designed kitchen tucks away the toaster and other appliances.
22 of 85
Invest In Appliances
When there's not much you can do with a cramped space without making it feel even smaller, add a rug. It'll warm it up, and add color and pattern without overwhelming your kitchen. Interior designer Michelle Nussbaumer also chose a warm color palette and packs plenty of texture-rich materials into the small space.
23 of 85
Be Thoughtful of Spacial Relation
There's a lot to love about this kitchen designed by Arent & Pyke, but we're particularly impressed by the careful, asymmetrical balance happening here. The hood leans to the right of the room, as do the bar stools, which is subtlety reflected in the cream lumbar pillow camouflaging into the sofa. Meanwhile, the linear floating shelf in line with the hood as well as the light fixture, island counter, and sofa form a soothing sense of symmetry.
24 of 85
Use a Unique Stain
If you prefer the look of unpainted wood but also like to play with colors, consider dyeing your wood cabinets a unique color. In this deVOL kitchen, the aubergine island and lower corner cabinet is super unexpected. We're also loving all the exposed beams and casual floor tiling.
25 of 85
Use Metal Grates
Can't decide between glass display cabinets and solid cabinets? Try this happy medium. The metal grates allow for partial visibility and add a shiny touch.
26 of 85
Go All White
You can't go wrong with an all-white kitchen. This design trend, as mastered by Leanne ford here, is particularly well-suited for the room where cleanliness is essential. The pops of red cookware break thing up just enough, and we also love the upcycled soup cans for an affordable decor solution channeling pop art.
27 of 85
Take Design Risks With Lighting
Lighting provides the perfect opportunity to play with design, and scale in the kitchen. Arent & Pyke clustered a pair of long, narrow cylindrical pendants to offset the formality of this kitchen instead of going with a classic pendant light over the island.
28 of 85
Set the Scene
Contemporary kitchen or dreamy Victorian bistro? Everything in this deVOL kitchen contributes to the narrative of European nostalgia, from the olive green Smeg refrigerator camouflaging against the House of Hackney wallpaper to the wrought iron window boxes fastened to the skylight niches. We're in love.
29 of 85
Forgo Overhead Cabinets
The narrow shape of the a galley kitchen tends to present some spacial challenges. In this one designed by Catherine Kwong, the designer opened things up by ditching upper cabinets in favor of a floating shelf. Opting for sconces instead of a flush mount or pendant helps make the ceilings feel a little higher, too.
30 of 85