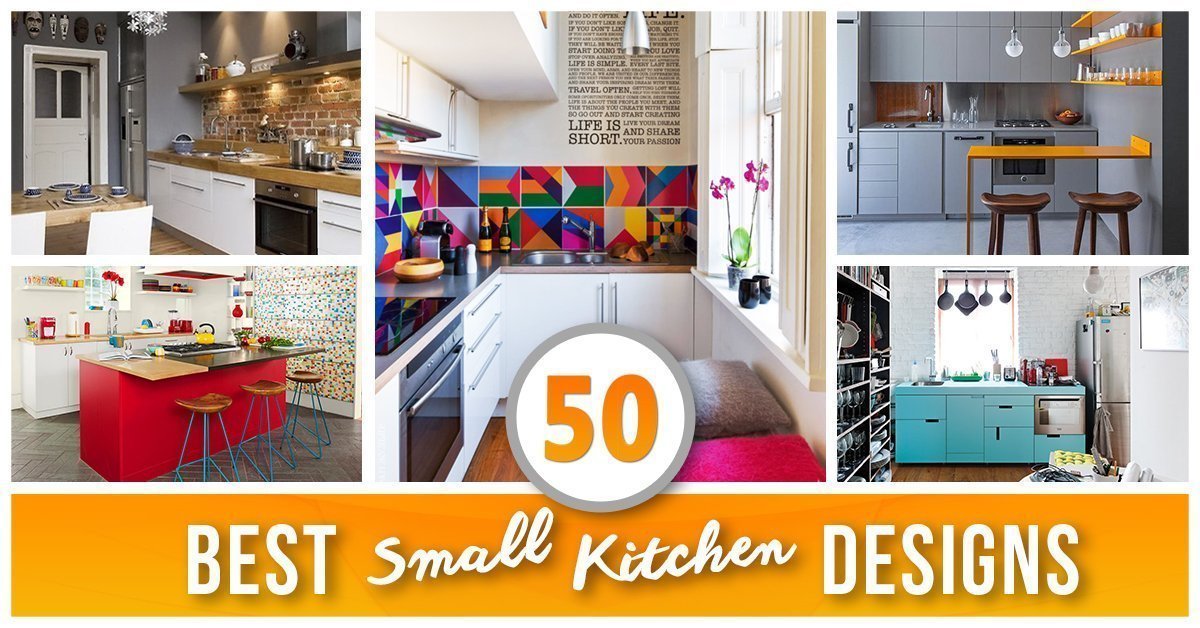 For most people, the kitchen is the hub of family life. It's the place where everyone gathers in the morning when they're just starting their day and the place were everyone comes together in the evening while dinner is cooking. However, not every family has a large kitchen to work with.
Just because you don't have a lot of space to work with doesn't mean that you can't have a lovely kitchen. With the right design tips and tricks, you can turn a smaller kitchen into a cheerful and functional space in your home. From creative uses of space to bright colors that give the illusion of a bigger area, there are plenty of smart ways to give a little kitchen a whole lot of life and character.
Don't feel limited by a small kitchen space. Here are fifty designs for smaller kitchen spaces to inspire you to make the most of your own tiny kitchen.
Check Out 50 great small kitchen design ideas for 2018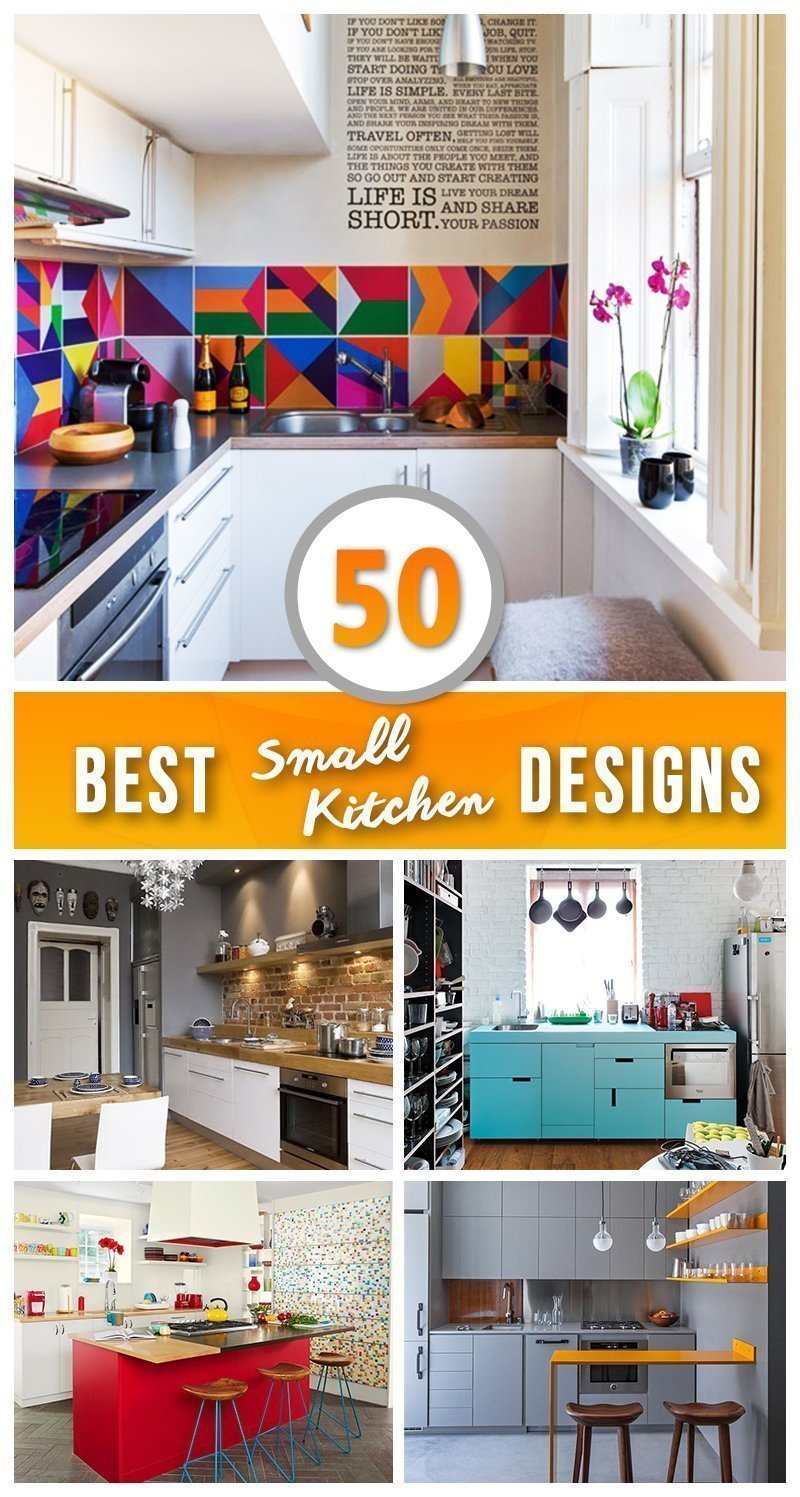 1. Find Serenity With Muted Blues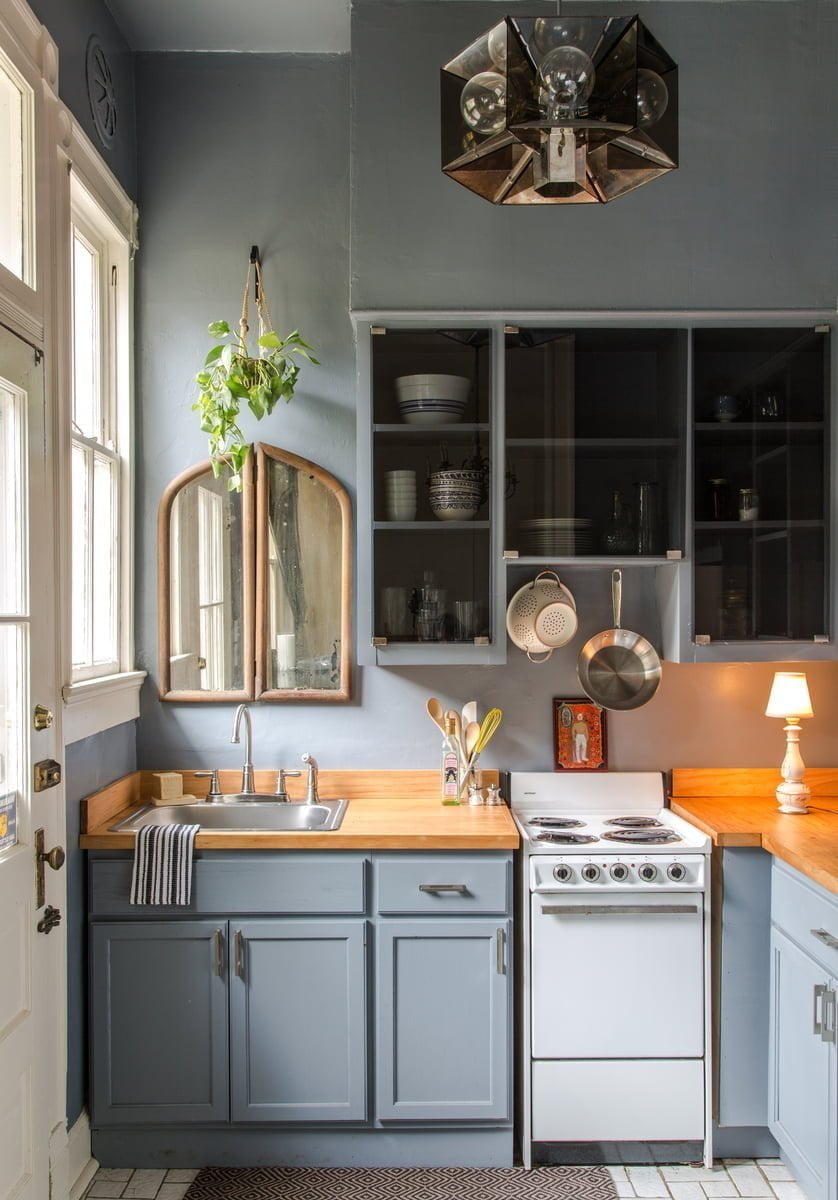 Blue is a bright and cheerful color that can bring a sense of calm to any kitchen. However, some find really bold blues to be too overwhelming. This homeowner gave their modest kitchen a bright but demure ambiance with a muted blue hue on the walls and cabinets. One interesting design choice is the mirror above the sink. While most of us associate above-sink mirrors with bathroom decor, a mirror above the sink in a kitchen does wonders to open up the space. The clear doors on the upper level cabinets also add some extra dimension to this small but inviting space.
2. A Very Narrow Space Becomes Larger Than Life With Bright Hues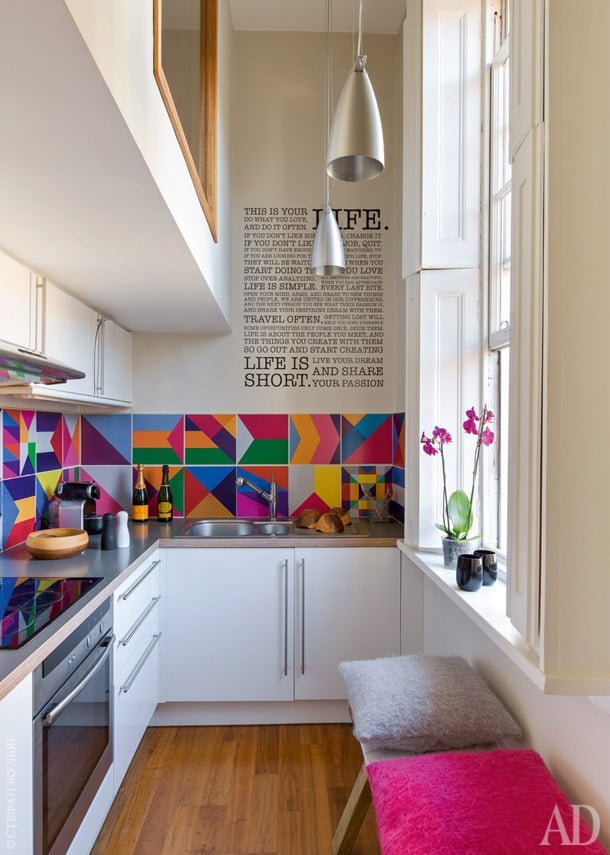 When it comes to small kitchen design, don't feel like you're stuck with the same old design techniques. This homeowner was stuck with a very unconventional kitchen space, in the sense that they had a narrow space but very high ceilings. To work with the architecture instead of against it, they went high with their decorations. The wall decal and the eye-catching lamps draw the eyes up, which makes the high ceiling and not the narrow space the focal point of this kitchen. While they kept the cabinets and walls white, the multi-colored backsplash brings cheer to this slim space.
3. An Entire Kitchen Hidden In A Beautiful Furniture Piece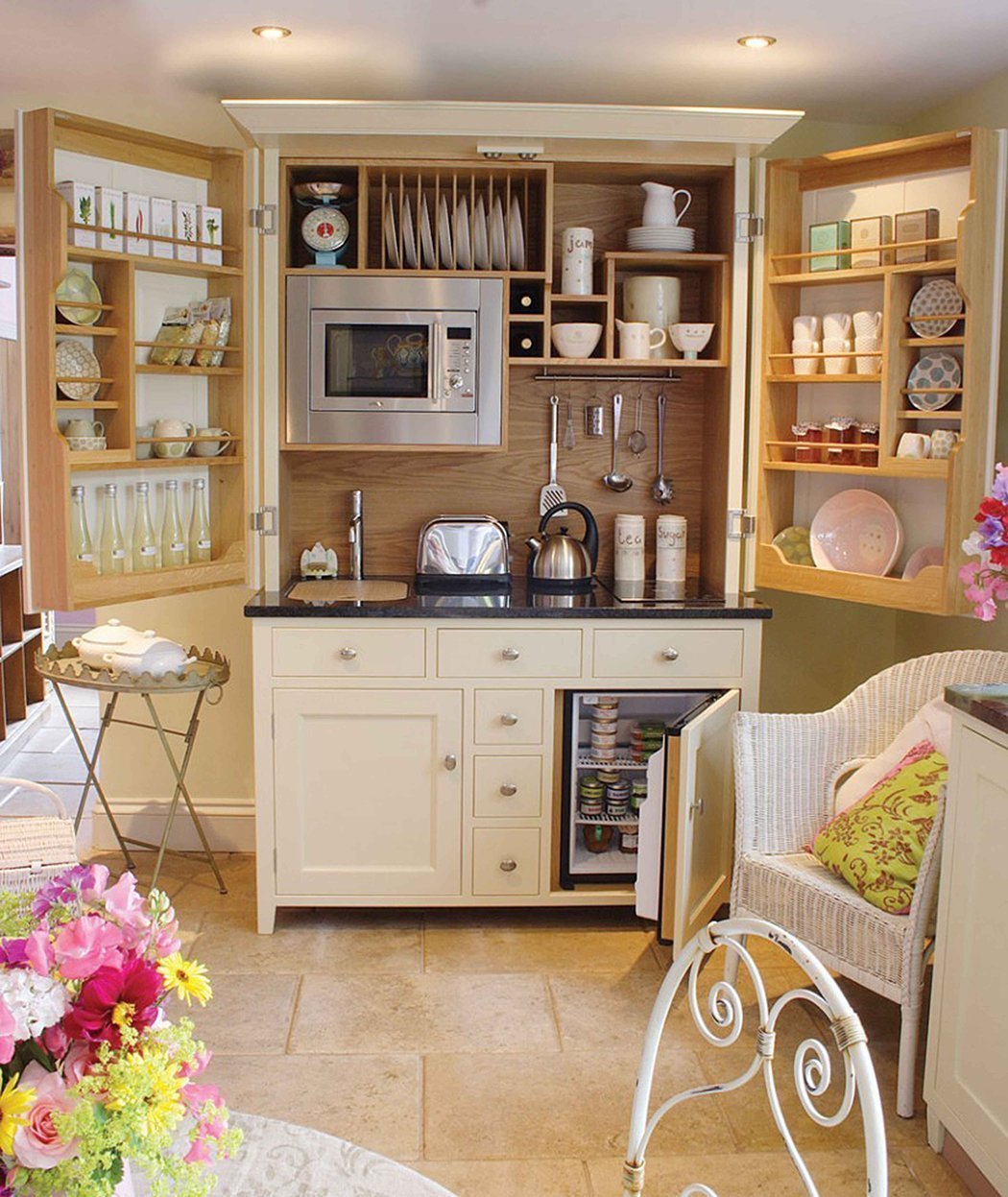 If anyone has made the best of a tiny kitchen space, it's this clever homeowner. They have built an entire kitchen counter, complete with a sink, microwave and shelving space, into a beautiful floor-to-ceiling furniture piece. This piece looks just as beautiful open as it does closed. Not only have they made a lovely nook that is completely functional, but the demure accents ensure that this piece fits in well with the rest of their shabby chic home design. This piece would be perfect for a kitchen with limited space, in addition to a functioning wet bar for a parlor or game room.
4. Modern, Sunny and Bright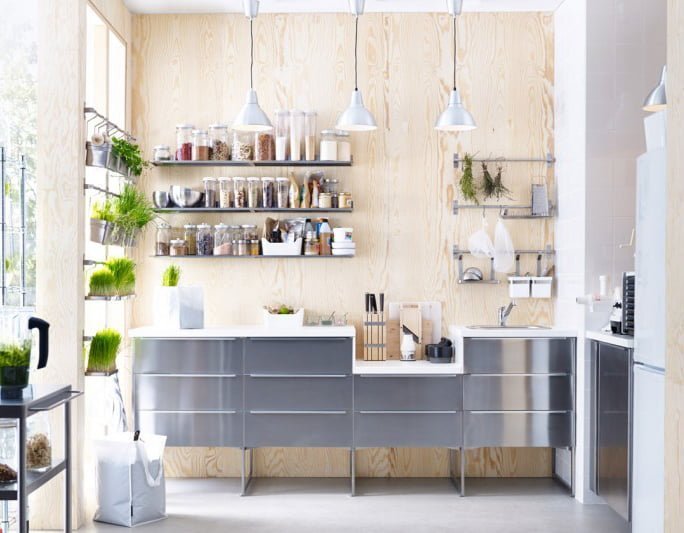 These days, many kitchen decorating ideas are moving away from the cozy and shabby chic look and more towards the modern, minimalist and clean look. This kitchen design is sunny and inviting, but also quite modern and sophisticated. The brushed tin on the cabinets gives this kitchen a sleek look, while the use of greenery and the floor-to-ceiling windows ensure that the space is cheerful and inviting. The homeowner's decision to keep their spices in decorative jars on shelves instead of hidden away in closed cabinets is inspired and can be replicated by just about anyone.
5. Classic With A Touch Of Modern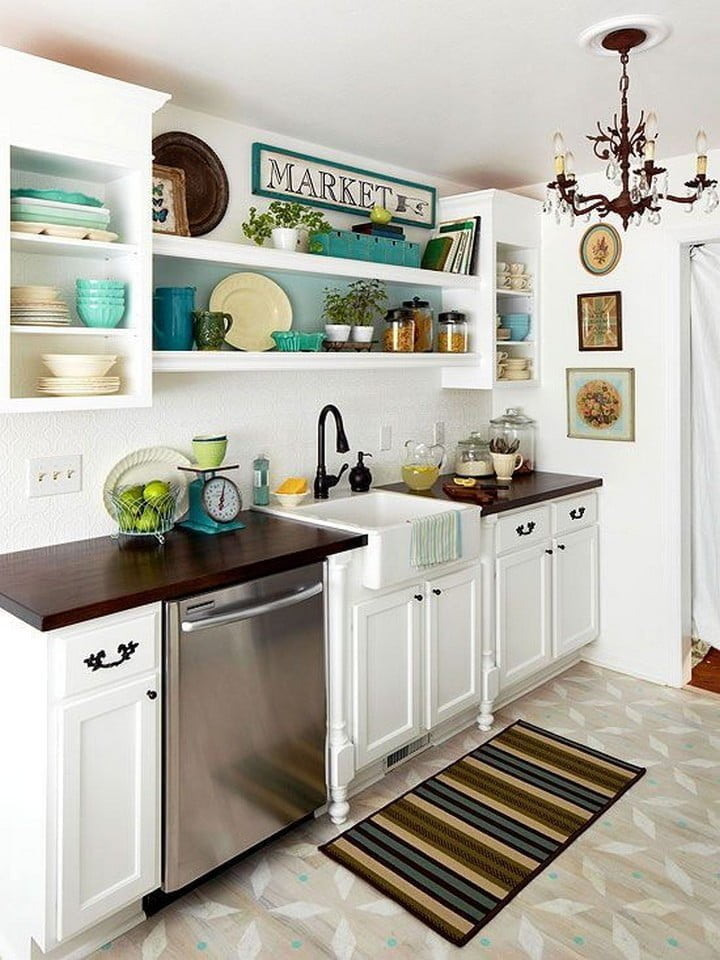 A lot of kitchen design pictures feature spaces with white cabinets and walls. While this might seem boring to some, there's a practicality to it. With this simple foundation, you can truly create just about any decor scheme in your space. This homeowner chose to work with teal and cream decor pieces and accents. The focal point of this design is the antique chandelier, which gives this otherwise modern design a touch of old world charm.
6. Trendy Modernity Meets Retro Charm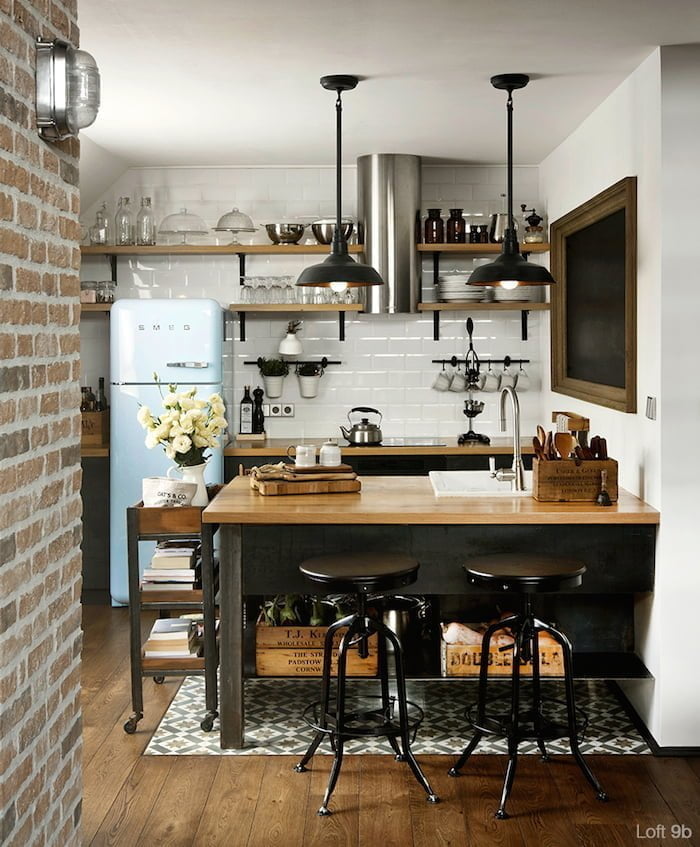 The juxtaposition of the baby blue retro fridge with the sleek, shiny black accents in this tiny kitchen design is truly inspired. The bright white tile backsplash ties the whole look together. This kitchen design idea demonstrates that you don't have to feel locked into working with design ideas from just one era. Mixing the old with the new can create a look that is charming yet current. The little accents, such as the cream flowers and the antique wooden boxes, finish off this simply gorgeous design.
7. Soft, Feminine and Sunny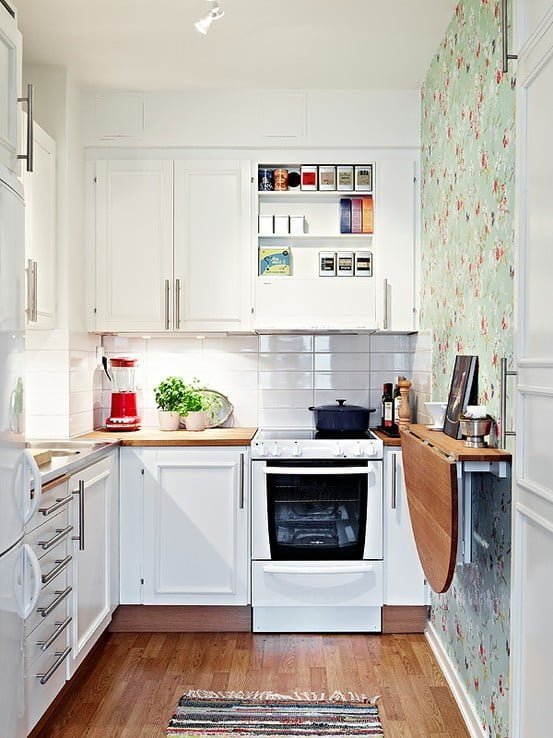 Home decor doesn't have to be about modern architecture and fashion-forward design accents. There's nothing wrong with sticking with a classic, feminine design scheme. This homeowner chose to create an accent wall, adorned with a lovely soft green floral wallpaper. It works beautifully with the rest of the space, which is a simple but bright white. The hideaway breakfast bar on the accent wall is a great idea for anyone who wants a kitchen table but simply doesn't have the space. Stools can be stored in a nearby coat or supply closet and retrieved as needed. This is a lovely use of a small space that isn't too overwhelming or overpowering.
8. A Futuristic, Polished Design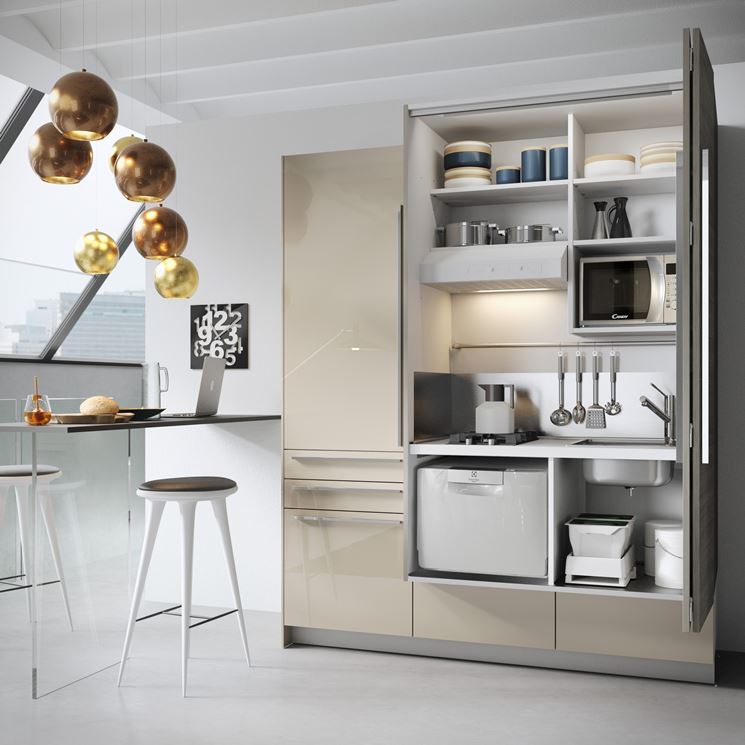 If you prefer your home decoration inspiration to be futuristic and modern instead of classic and demure, then this is the perfect kitchen design scheme for you. This homeowner utilized a hideaway kitchen space, which have been a popular choice in major Asian cities like Seoul and Tokyo, where apartment space is limited, for quite some time. Everything about this design is about as modern as it gets, from the polished metallic surfaces to the hanging gold spherical light fixtures. This design would be perfect for any apartment or condo dweller who wants to turn their small space into something big.
9. Black, White and Elegant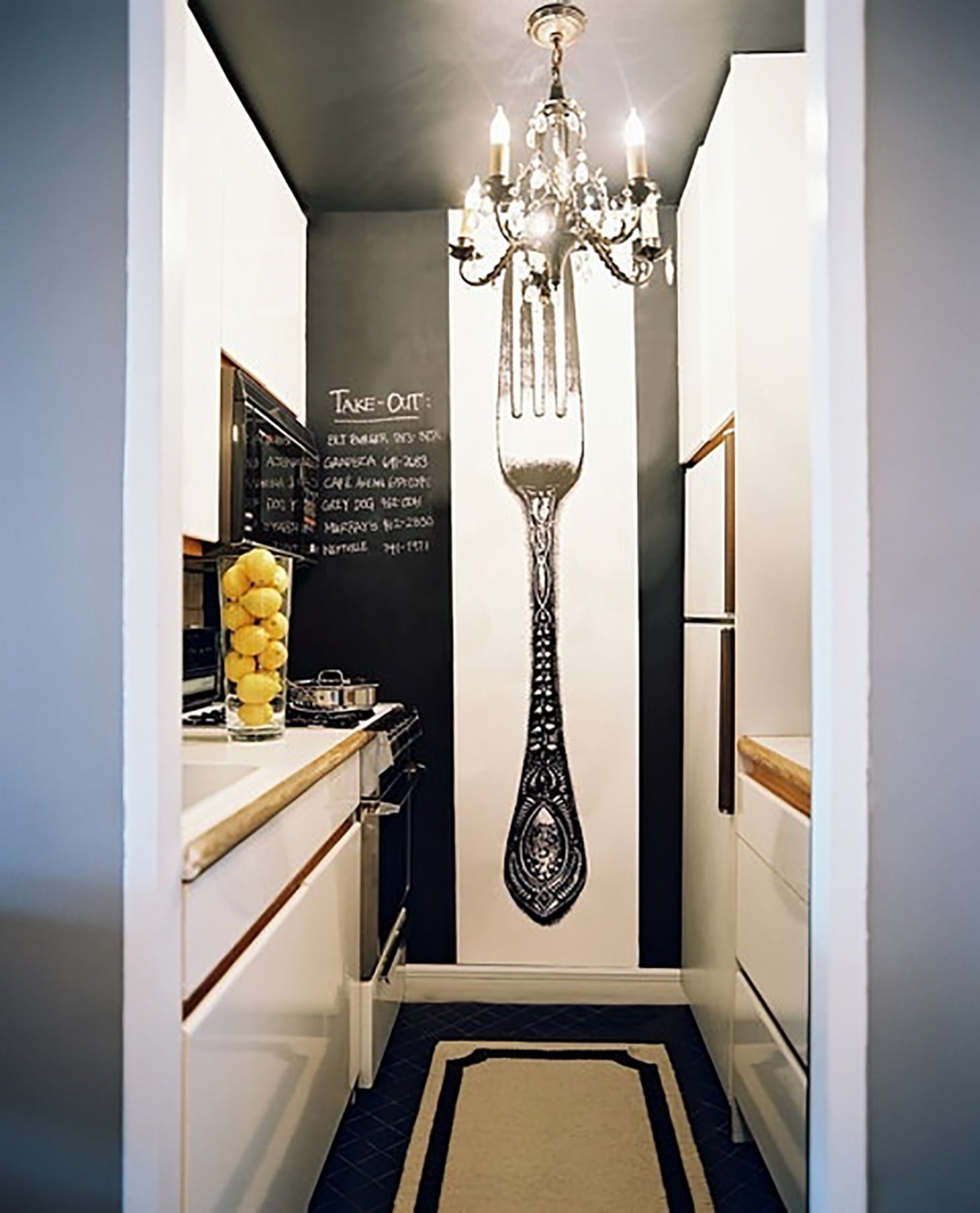 There is something to be said for the elegance of black and white home decor designs. This apartment dweller was working with an incredibly narrow kitchen space that didn't have high ceilings to make up for it. Instead of remodeling the actual cabinetry or fixtures, they painted the ceiling and a single wall in black chalkboard paint, adding a floor-to-ceiling wall decal of an ornate antique fork. The beautiful, French-inspired black chandelier finishes off this incredibly elegant design. This is an example of an apartment kitchen that started off incredibly dull and dreary, but was brought to life with some simple touches.
10. Work With What You Have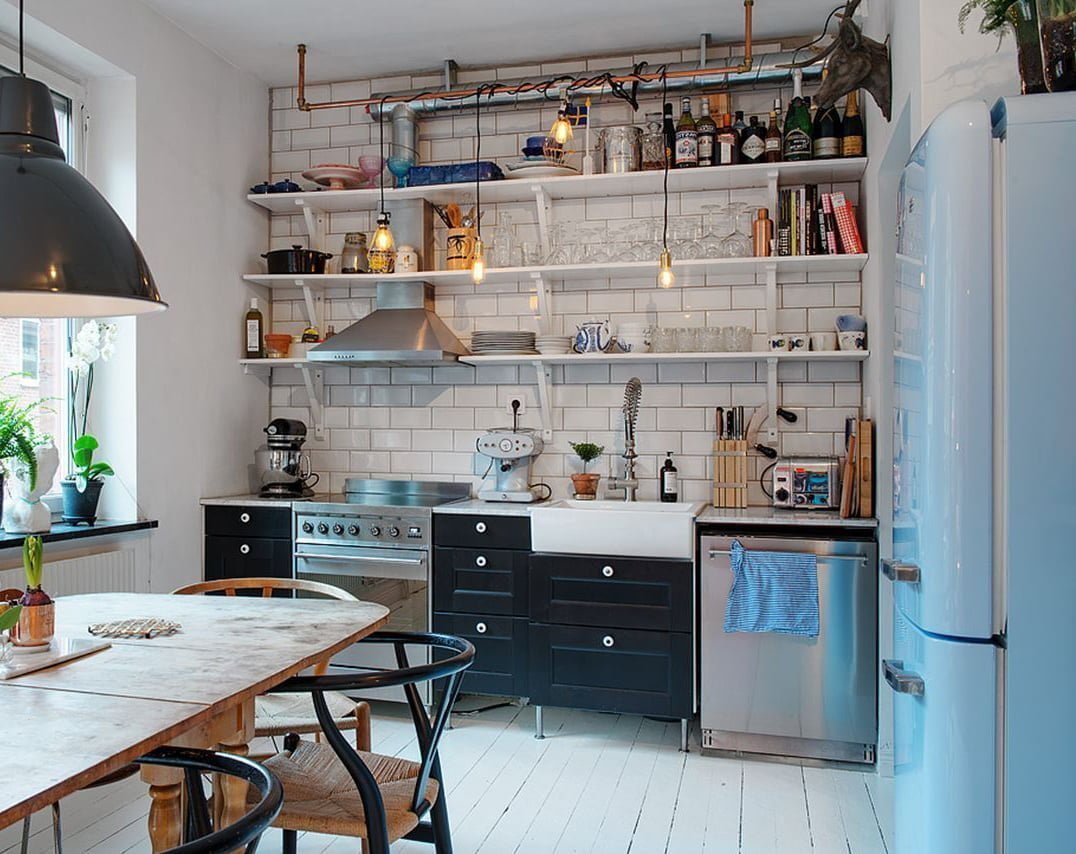 This homeowner started with what may have been a nightmare for some. Instead of cabinets, they were stuck with shelves, in addition to an exposed exhaust vent. However, instead of trying to conceal these aspects, they worked with them in their tiny kitchen design. They adorned the shelves with glassware, books and knick-knacks to give the space some personality. Instead of attempting to conceal the exhaust vent, they hung delicate lights from the pipe. This gorgeous design is both chic and deconstructed, giving it an incredibly modern and urban feel.
11. Bright Yellows and Metallic Surfaces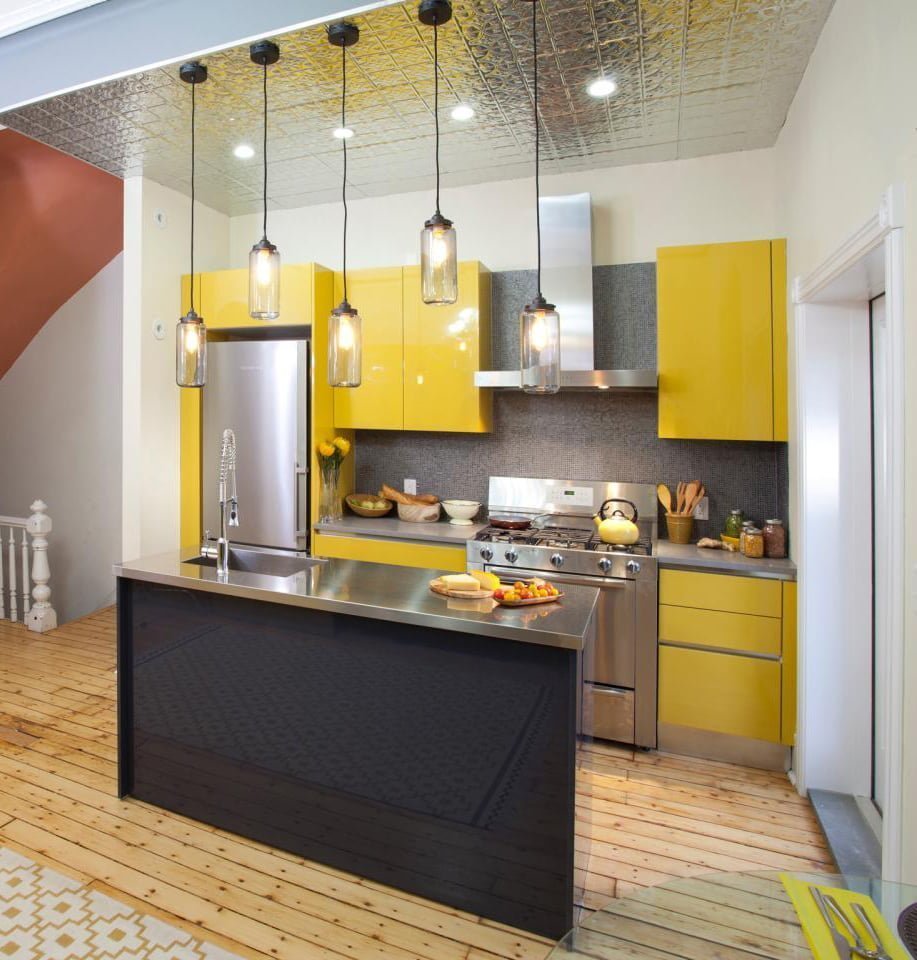 Don't be surprised if you see a lot of metallic or reflective surfaces when you're researching small kitchen design ideas. Working with materials like polished tin are great for small spaces because they reflect images instead of just presenting a matte finish. This can create the illusion of a space being far larger than it is; indeed, this is why you'll see a lot of mirrors when designers are trying to open up a small room. In this kitchen, a reflective ceiling creates the illusion of the room being far taller than it is. The bright yellow color of the cabinets helps to create an illusion of openness as well.
12. A Small Space With A Fifties Flair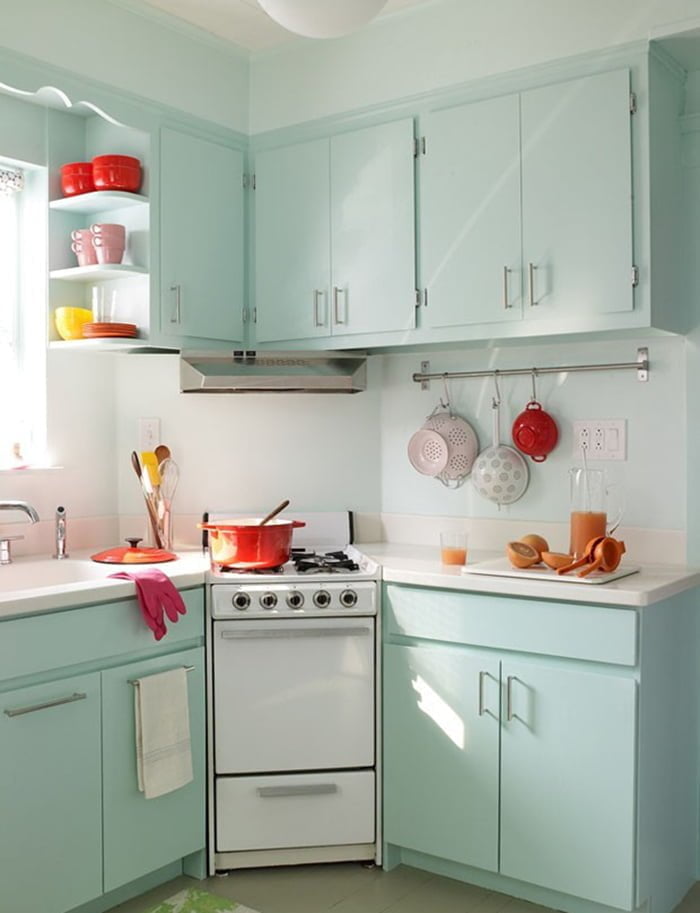 This tiny kitchen is inspired by the classic look of 1950s kitchens. The cabinets are painted a classic soft teal, with a tiny antique gas oven instead of a large modern stove. This homeowner is clearly more than eager to play up the retro look of their kitchen, with antique Tupperware and kitchen tools used to decorate the space. This retro look may feel quite daring to some; however, the classic style of 1950s kitchens is a piece of Americana that will forever be in style.
13. A Cherry Red Fridge Is The Focal Point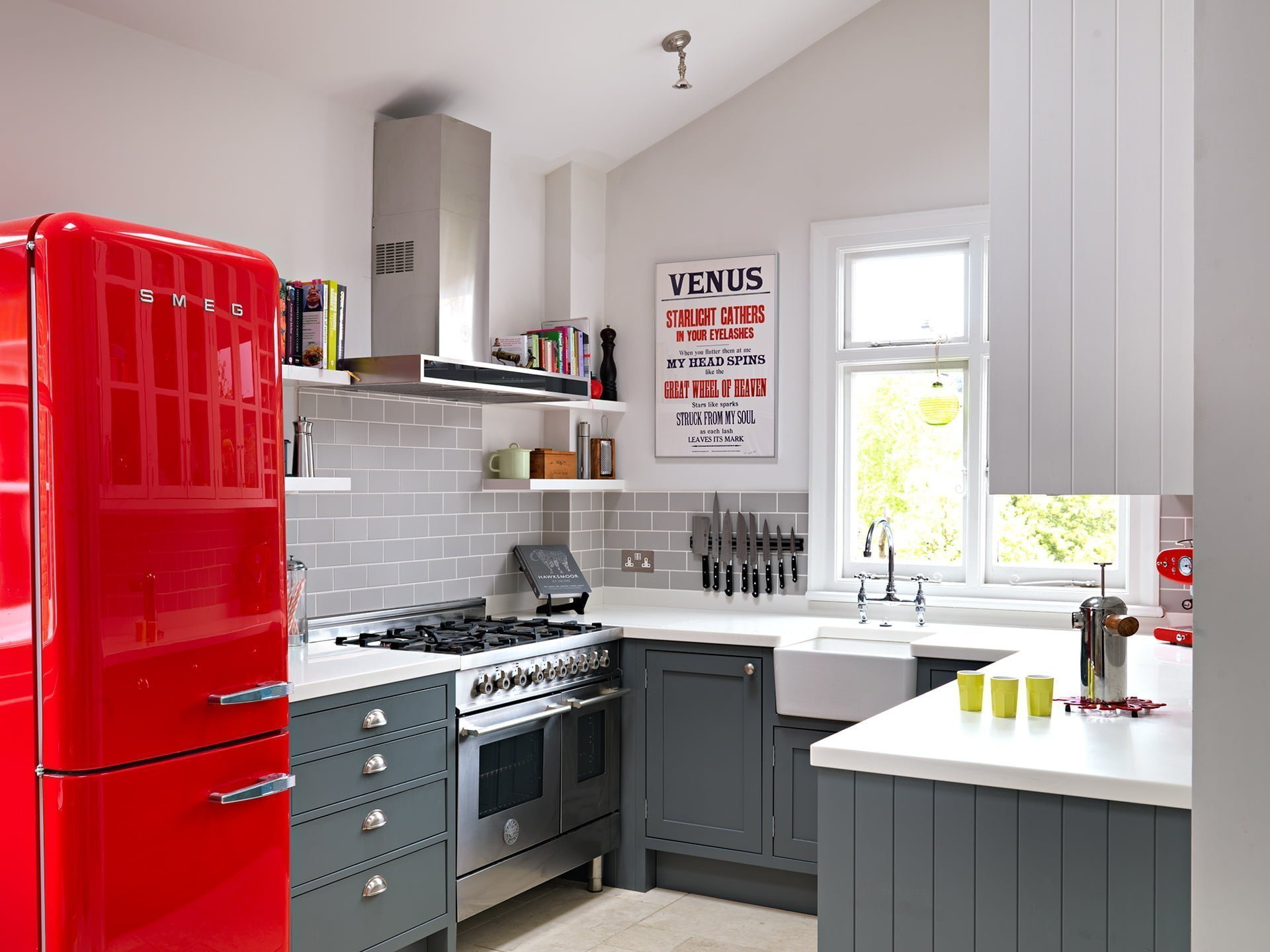 When reviewing kitchen design images, you'll start to notice that a common theme is picking one part of the design to serve as a focal point. For many, this is an accent wall. For others, it's the kitchen island. In this unique kitchen, a retro cherry red fridge serves as a stupendous focal point. The homeowner was smart to keep the rest of the look simple, with muted dark grey cabinets that don't overpower the brightness of the fridge. The red text on the artwork near the window serves as a beautiful finishing accent that ties the whole decor scheme together.
14. Who Needs Cabinets When Bookshelves Will Do?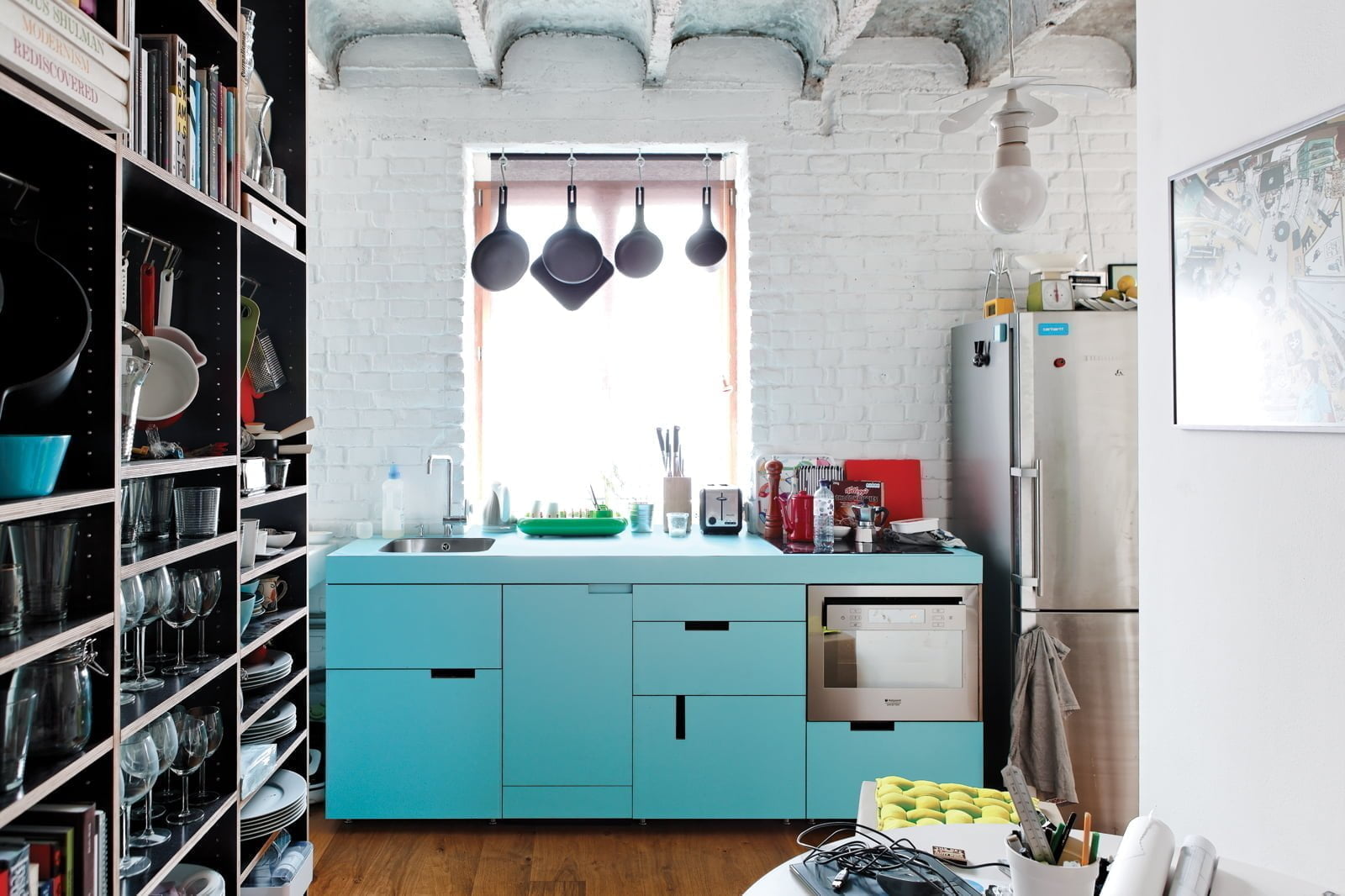 Some home decor purists may audibly gasp at the idea of bookshelves in the kitchen, used in lieu of cabinets, but anyone who loves modern design will instantly recognize this as a bold and chic design choice. For many urban apartment dwellers, bookshelves may be the only resource they have for storing their plates, glassware and kitchen accessories. As long as everything is organized in an appealing and eye-catching way, this is a bold way to create a gorgeous decor scheme both in a small space and on a budget.
More small kitchen design ideas on the next page…