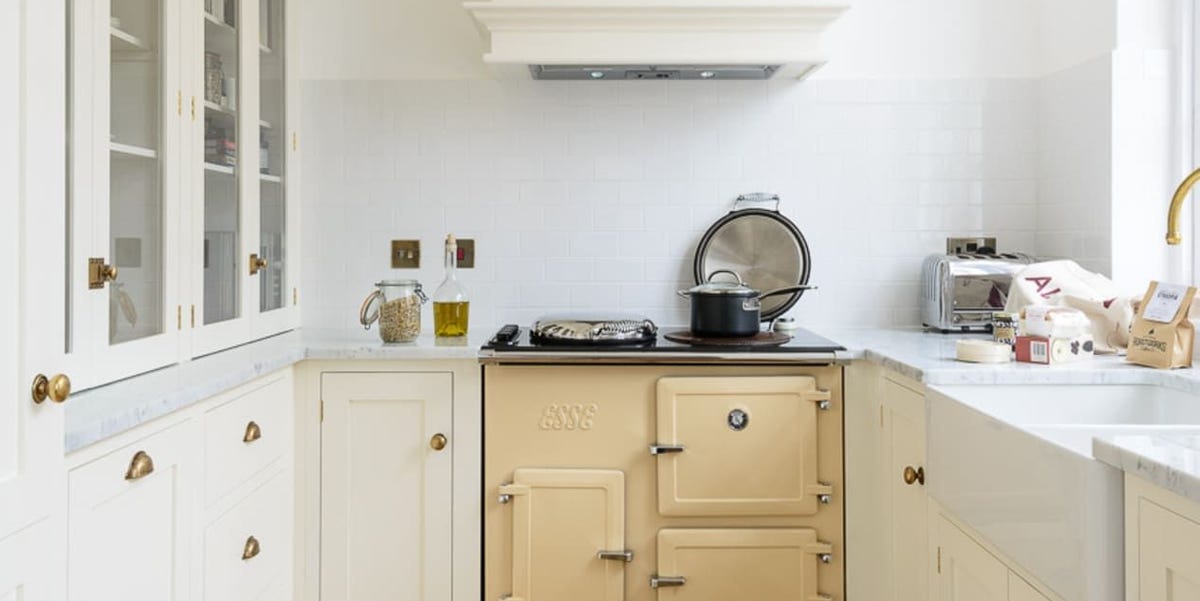 We all dream of a spacious kitchen with sky-high ceilings and tons of natural light pouring through massive windows. In reality, though, most of us make due with small, oddly shaped ones. But it doesn't have to be so bad! In fact, with the right small-space solutions and stylish design ideas, it really doesn't matter what size your space is. Keep reading for 50 clever and chic small kitchen ideas to steal so you never feel like a claustrophobic cook again—we promise these tricks will help you make the most of your counter space and cabinetry.
1 Get Some Statement Lighting
Is anyone actually going to notice how big or small your kitchen is when you've got an amazing piece of statement lighting? Definitely not. We're also loving the mixed metals and olive green paint in this one.
2 Store Things On Top of Cabinets
If you've got space between your cabinets and your ceiling, you've got storage. Add wicker baskets and it's the perfect spot to keep lesser-used tools. In this kitchen designed by Michelle Nussbaumer, she chose a vibrant ikat print to embolden the entire area.
3 Pare Down
Do you really need 25 extra bowls? Pare down your kitchen stuff to the bare minimum and you'll be surprised how much space you actually have. That way, your textural materials can really pop.
4 Keep It Classic
Here's one more reason to love subway tiling. Lay it horizontally all around your kitchen and it will help the space feel wider. And stick to a neutral, bright palette for a classic look.
5 Go High-Gloss
Here's another show-stopper brought to you by Michelle Nnussbaumer. The blush pink and deep aqua lacquered cabinets are reflective, which means they make the space feel large (like the classic mirror trick, but colorful).
6 Use Your Green Thumb
Plants make everything feel happier—even small kitchens. Plus, if you get great light, why not make use it? ETC.etera cleverly put a large plant on top of the fridge to brighten up the space.
7 Mirror the Walls
Mirror the walls to make a small kitchen feel larger. In this gorgeous apartment designed by Akin Atelier, the mirrors accentuate the sweeping views. And with a view like that, who cares what size the kitchen is?
8 Organize Strategically
If you're adding shelves for storage, you don't want them to look cluttered. Arrange bowls and mugs by color so everything feels cohesive. In this small kitchen designed by Velinda Hellen for Emily Henderson, every single space is used for extra storage—even the side of the island, where they installed a rod to hang cooking tools.
9 Ditch the Hardware
Skip bulky hardware on your cabinetry and drawers. It'll help your space look more streamlined and sleek. Going monochrome will also make it feel like a jewel box.
10 Go Bright
You know the drill: whiter=brighter. Keep everything white, then add in pops of color from your serving ware or a cool pendant light that doesn't take up too much space.
11 Squeeze In More Cabinets
To squeeze in extra storage, try adding little cubbies to fill in the space above a window or your range hood. Just make sure you have a step ladder handy. We're also digging the statement hood in this Hecker Guthrie-designed kitchen. Proof that size doesn't matter.
12 Warm It Up With a Rug
When there's not much you can do with a cramped space without making it feel even smaller, add a rug. It'll warm it up, and add color and pattern without overwhelming your kitchen. Interior designer Michelle Nussbaumer also chose a warm color palette and packs plenty of texture-rich materials into the small space.
13 Embrace the Cozy
The smaller, the cozier. Embrace it with warm cream colors and gold fixtures. In this small cubic kitchen designed by deVol Kitchens, the retro English-style hardware complements the size of the space.
14 Embolden a Galley Kitchen
Sure, galley-style kitchens lack counter space, but you can make up for it by thinking of the space in stations: an area to prep, an area for stovetop cooking, and so on. Then you can make dinner assembly-line style. This one designed by Brady Tolbert for Emily Henderson manages to make room for everything (those ceiling-high cabinets help) while also packing a lot of style punch with monochrome graphic touches.
15 Expose Your Goods
Keeping things white will brighten up a small space, but that doesn't mean you have to swear off wood forever. Reclaimed wood shelving adds contrast—and necessary storage. In this deVol Kitchen, the prettiest items are displayed on the exposed wall-to-wall shelves and cubbies so the less attractive essentials can be tucked away in the cabinets.
16 Slide in a Bar Cart
When your kitchen is minuscule, you'll have to surrender the dream of a kitchen island (for now, at least). The next best—and most proportionally appropriate—thing? A bar cart! It provides a little more storage and you can also opt for a little rolling cart with a butcherblock top for cooking.
17 Create Your Own Pantry
If you have zero space in your kitchen, don't stress. Create your own storage nook on a nearby wall in your house by putting up shelves and placing some stools underneath. You'll have a place to put your bag, shoes, and hats when you come home, and a place for all those gifted cake stands you've accumulated. That's a thing, right?
18 Ensure the Breakfast Counter Flows
Connect a kitchen and dining area with a cute pass-through. Not only does it open up both rooms, but the countertop adds a spot for breakfast if you don't have room for a nook in the kitchen.
19 Get Scrappy
Take advantage of literally every little surface, even one's that don't seem functional. For example, deVol Kitchens added a rod with hooks under the upper shelves to hang mugs and cooking utensils. Strategic and chic.
20 Keep Stools Low
Disco ball or breakfast counter? This tiny kitchen designed by ETC.etera for L.A.'s Firehouse Hotel is beyond cool. The mirrored tile backsplash contrasts nicely with the casual wicker stools. The key is to keep them low-profile as to not take up too much visual real estate.
21 Make a Statement
It's tiny, so every inch should be both functional and communicate the right style statement. In this deVol kitchen, it's all about unique patterned backsplash and a bold paint color.
22 Make it Blend In
If you have a small kitchen that's exposed to your living space, make it blend is as much as possible. Here, the silver refrigerator, simply white cabinetry, and marble countertops manage to be both stylish and understood so the dining room can shine under the spotlight. Plus, a farm table can do double-duty as a dinner spot and work surface.
23 Choose a Moody Color Scheme
Once you decide what color to go with, don't forget about the finish. A high-gloss coating can help a small space feel larger.
24 Conceal Everything
Designed by Matthew Ferrarini, this kitchen is bursting with ingenious small-space solutions. He used folding wood pocket doors to conceal the entire counter and cabinet area against the wall. This would be a major game-changer in a studio apartment in particular.
25 Opt for Backless Stools
Backless stools can slip under a counter to save space. Choose a color that'll blend in with your island, unifying the room. The industrial stools in this open kitchen designed by Leanne Ford blend right in.
26 Make It a Jewel Box
This kitchen designed by Garrow Kedigian is the perfect mix between over-the-top glam and pared back industrial. We didn't think that was possible until now. Use metallic finishes and statement lighting for a similar effect.
27 Hang Pots and Pans
Bulky pans can take up valuable space, so install an industrial pot rack above the kitchen island or on an empty wall. It's functional and stylish. In this kitchen designed by Leanne Ford Interiors, the copper pots and pans boast a vintage, French country-style character.
28 Go to the Dark Side
Embrace small space by going for black cabinetry. Contrary to popular belief, dark paint colors can actually make a small space feel larger than stark white paint. In this modestly-sized kitchen designed by Heidi Caillier, the inky hue makes for an intimate and soothing atmosphere.
29 Rethink the Layout
This itty-bitty kitchen designed by Jess Bunge for Emily Henderson Design proves that no space is too small to be functional and pretty. The bold convex mirror brings a sense of fun and personal style and also detracts from the stove (which, in such a small space, could have looked bulky).
30 Add a Shelf Above the Sove
To expand a tiny kitchen, add extra shelves in places they'd be most functional, like above the stove. That way, you won't have to spend a lot of money, or take up valuable floor space. This moody farmhouse kitchen designed by deVol kitchen also takes advantage of the wide windowsill, using it as an extra surface.
31 Face the Windows
Add in as many windows as you can to make a small space feel less claustrophobic. A glossy finish on cabinets also helps—it bounces light back into the room.
32 Highlight a Bright Color
Opt for a metallic hood and saturated range to make a statement. Then tone things down with a runner and artwork in muted iteration of the same color, as done here inn this pretty kitchen designed by Cameron Ruppert Interiors.
33 Make Your Island Multi-Purpose
If your kitchen is small, you likely won't have room for an island and a breakfast nook. Choose an island that'll do double duty—you can use it as counter space when you're prepping dinner, and eat at it later.
34 Pull Up A Chair
You might not have room for a breakfast nook, but you can probably make some space for a counter bar. To make it feel a little cozier, add a patterned rug. See more at Amber Interiors.
35 Industrial Edge
Open shelves amp up the cool, industrial feel to this kitchen's exposed pipes. To keep it feeling a bit more polished, go for all white.
36 Color Block
You can hardly tell that the cabinets in this kitchen by Maltsev Design stretch all the way up to the ceilings. The color-blocking approach helps disguise them, as does the lack of hardware.
37 Rolling Kitchen Ladder
Adding extra storage up top is a great idea—but reaching it, on the other hand, is a challenge. Install a rolling ladder to access ceiling-height cabinets.
38 Bring In a Tall Table
A tall table works great in a space that's too small for a dining table and too big to have nothing. It can function as both a nook and an island. In this kitchen designed by Hecker Guthrie, the wooden table overlaps with the modern kitchen island.
39 Appliance Garage
To keep countertops clear, tuck the toaster and coffeemaker away in a sleek appliance garage. A stand mixer can pop up from its own designated cabinet if you install a spring-loaded shelf.
40 Add Extra Task Lighting
You'll need all the task lighting you can get in a small kitchen. Here, deVol Kitchens installed three small pendants over the countertop workspace.
41 Moveable Kitchen Bar
To gain counter space, add a movable bar to the doorway of your kitchen. When you need to get in and out, you can easily roll it out of the way.
42 Singular Kitchen Shelf
No counter space? No problem. A single shelf adds a spot to put the not-so-necessary (but actually, totally necessary) kitchen items like candles, art, and vases.
43 Hide Your Toaster
Instead of keeping your appliances, like a toaster or microwave, out in plain sight, work with yoru contractor and designer to come up with cool ways to hide them. Here, Mick De Guilio created a sliding quartzite door on the counter to hide a pull out tray for the toaster. It blends in with the rest of the backsplash.
44 Add Some Wallpaper
You may not have a ton of counter/floor space to play with decor, so make a statement on your walls. If you don't want it to feel too overpowering, accent with it instead of covering an entire wall.
45 Copper Shelving
If you're low on cupboard space, add storage on shelves. Copper-pipe shelving has hooks for hanging mugs, shelves to stack dishes, and looks super chic.
46 Glass Doors
In this kitchen, wood floors extend out to an adjacent deck through glass doors, creating the illusion of a much bigger space. It's modern meets farmhouse, and I'm obsessed.
47 Folding Doors
Create folding doors to close off the dining room from the kitchen. If space is tight, you'll benefit from the extra room when guests come over.
48 Metallic Sheen
If the space is small, play around with fun wallpaper. Something with a little sheen will make the room gleam…even if you haven't gotten to the dishes in, uh, a while.
49 Open Shelving
Try open shelves instead of upper cabinets for an airy feel. Just make sure you don't clutter them or else it will look too busy.
50 Saturated Color
Pump up a color and make it feel even more vibrant by lacquering it. Keep everything, even the fridge, the same color and it'll feel more uniform.
Hadley Mendelsohn Design Editor Hadley Mendelsohn is House Beautiful's design editor, and when she's not busy obsessing over all things decor-related, you can find her scouring vintage stores, reading, or stumbling about because she probably lost her glasses again.

Source