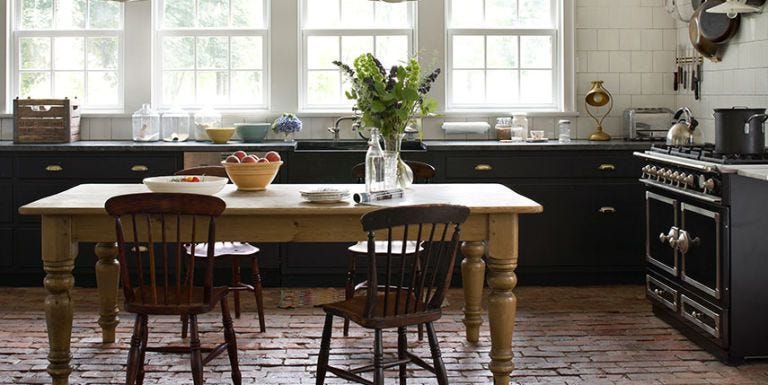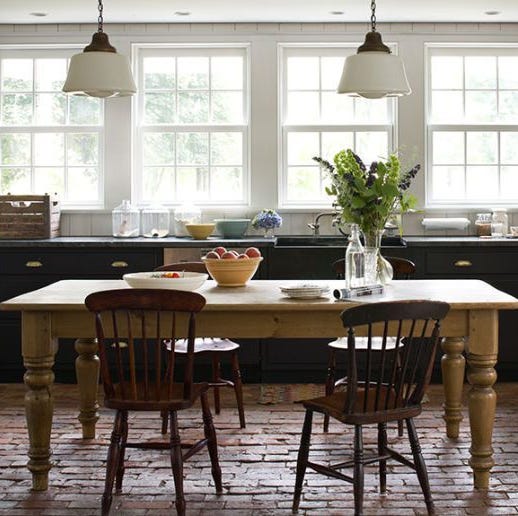 Country Living
While the all-white kitchen will probably never go out of style, there are lots of design trends for 2020 that will make you happy. Think natural elements with some pops of color. We know, we know. You've carefully chosen all the elements for the perfect farmhouse kitchen, but there are ways to dip your toes into the world of color without messing up your rustic kitchen aesthetic. On the color front, why not try painting your ceiling a fun color like haint blue? Or haul in some colorful appliances.
If you've been wanting to layer in more natural elements, try "sustainable" and "eco-friendly" items. These are words that are popping up more and more, with many companies offering green solutions for cabinets and shelving. You can also think about bringing in handmade tiles in materials like terra-cotta and cement—a great solution for adding a little more soul to your space.
When it comes to countertops, quartz is quickly becoming an affordable and low maintenance alternative to our beloved marble. There are even new trends for accessorizing your countertops, like vintage plate racks made to display your grandmother's china. Hardware and metal finishes continue to push the envelope—think brass, nickel, and matte black. Removable wallpaper companies are making it even easier to experiment with pattern on walls and backsplashes. Consider 2020 as the year of the kitchen!
Marble Kitchen Countertops
Carrara marble like that shown here will always be in style, but if you're a red wine drinker, quartz could be a much better fit for you and your kitchen. While it looks like a natural stone, engineered quartz is more affordable and less prone to stains.
1 of 32
Kitchen Larders
Originally a room in the home used for storing and preserving foods (think: the refrigerator before the refrigerator was invented), the kitchen larder has transformed into a stand-alone cupboard or pantry. They can be large enough to house the majority of your dry goods but small enough to keep things organized while taking up a minimal amount of valuable space. Forget a walk-in and sub in counter-top cabinet or add doors to enclose pre-existing shelving.
2 of 32
Handmade Kitchen Tiles
Bring texture and nuance to your kitchen walls with handmade tiles. The possibilities are vast—try terra-cotta or cement in colors that range the rainbow—although we lean toward more neutral hues.
3 of 32
The 5th Wall (The Kitchen Ceiling)
Don't forget about your kitchen ceiling! Add a fun hit of color, wallpaper, or wood paneling to add dramatic flair to your space.
4 of 32
Reclaimed Wood Kitchen Cabinetry
If you're installing custom cabinets, opt for a rough-hewn, reclaimed wood. And good news if you're going pre-fab, companies such as IKEA are moving to more natural, eco-friendly materials for their kitchen cabinets. From bamboo to even recycled plastic bottles, cabinet companies are taking this revival of reduce and reuse very seriously.
5 of 32
Kitchen Wallpaper
While wallpaper has become less scary to the general population over the last five years or so, folks are still reluctant to hang it in the kitchen. If you're scared about the permanency of wallpaper, try something less, well, permanent. There are plenty of peel-and-stick papers in trendy designs that are incredibly easy to install and remove. Hot tip: Opt for a graphic design that mimics the look of tile.
6 of 32
Kitchen Plate Racks
Vintage plate racks are coming back in a big way in 2020. Whether displayed on countertops or mounted on walls, they add a ton of soul to a space and give you an actual place to store and display your dishware instead of hiding it away in a hutch or cupboard.
7 of 32
Mix-and-Match Kitchen Metals
The year 2020 is not about being matchy-matchy—and that goes double for your heavy metals. Choose a nice nickel for your knobs and then go with a cool brass or matte white for your faucet. Choose a whole different metal for your lighting fixtures.
8 of 32
Hidden Kitchen Appliances
Not a fan of stainless steel facades? Try adding fronts to your appliances that mimic your cabinetry. Refrigerators and dishwashers disappear when clad to match their cabinet cohorts. Even your massive oven hood can get in on the action.
9 of 32
Natural Wood Tones in the Kitchen
While we're still seeing stained and painted woods, we're also seeing it in its natural state. Try adding a kitchen island—or just the topper—in a pretty, grainy wood. Brown wooden shelves that feel original to the house are another way to test the waters with wood. It will bring a warmth to any kitchen space, especially those trending bright white ones!
10 of 32
Open Shelving
Open shelves allow you to showcase your beautiful kitchenwares among other heirlooms and antiques. The ability to see through your storage also means everything is easy to find. Just don't forget to clean your items often since they will be open to the elements that might be floating through your kitchen. It's also helpful to keep every day items on the lowest, most accessible shelf.
11 of 32
Standout Sinks
You don't have to go nuts to achieve an on-trend kitchen. While an apron-front sink in a farmhouse kitchen isn't exactly unexpected, a farmhouse sink in soapstone with brass hardware is a showstopper—especially when it's set against white walls, wood cabinets, and stainless steel countertops.
12 of 32
Tons of Texture
For those who fear color, focus on mixing up the finishes. Designer Cathy Chapman chose white beadboard on the ceiling and shiplap for the walls. She used unlacquered brass strap hinges and latches on the cabinets, black marble on the island countertop, and tons of warm woods on the floors, backsplash, and remaining countertops.
13 of 32
Swoon-Worthy Ceilings
When you want to maintain neutrality but still have some fun in the kitchen, shoot for the stars—or in this case, the ceiling. Here, the Madcap Cottage team chose to paint the ceiling a Southern porch-inspired blue (Blue Ground by Farrow & Ball) and added an elaborate antique lantern.
14 of 32
Hints of Color
You don't have to scrap an all-white kitchen to stay on trend. Dip your toe in the color pool instead, whether you store colorful pottery in glass-front cabinets, bring in colorful furniture, or paint a large piece like this kitchen island in Tropical Moss by Dunn-Edwards Paints.
15 of 32
Open Kitchen and Living Areas
Maximize living space by making the family room and kitchen one large room. A mix of lighting helps differentiate the areas, while a uniform wall color keeps everything cohesive.
16 of 32
Pretty Pantries
Gone are the days of having a dark little pantry to house dry goods hidden away from prying eyes. Today's kitchens boast roomy pantries with shelving aplenty for your cereals and collectibles. Proud of your organizational skills and want to show off? Finish the pantry space with a screened porch door painted in an eye-catching color, like this bright green hue.
17 of 32
Range of Colors
Appliance makers like Lacanche, Big Chill, and Smeg offer up a host of practical pieces in a number of colors and finishes, which will definitely liven up your range.
18 of 32
Butcher Block Countertops
In this Massachusetts beach house, a savvy couple replaced linoleum with warm wood for a durable upgrade. Butcher block is virtually maintenance-free—it just needs an occasional coating of mineral oil—and the natural material is the perfect neutral to break up the sterility of an all-white palette.
21 of 32
Concealed Range Hoods
If you feel inclined to give more attention to your appliances, backsplash, or accessories, then you're going to be the first to embrace this new trend. Let your other kitchen elements steal the show with a sleek and minimalistic range hood like this one fashioned to blend in with the former chicken coop cabinets.
24 of 32
Think Beyond "Greige"
Gray undertones lend a timeless, totally livable vibe to most paint colors—not just beige—whether it's a sophisticated blue-gray seen in this photo (Oyster Bay by Sherwin-Williams), a purple-gray (like Grayish by Sherwin-Williams), or green-gray (like Dry Sage by Benjamin Moore).
25 of 32
Darker Floors
If you choose a light paint for walls or cabinetry, select a dark floor stain to up the cozy factor of the room. Mix one-half Ebony and one-half Jacobean from Minwax.
Bonus idea: The addition of furniture-like "feet" gives cabinetry a softer, more custom feel.
26 of 32
Heavy Up the Metal
The open shelving trend isn't going anywhere, and in a kitchen void of upper cabinetry, the hood is inevitably the centerpiece. Dress it accordingly! Copper sheeting, with coordinating straps and rivets, adds age-old warmth.
27 of 32
Design From the Ground Up
Rugs, however durable, aren't practical for a heavy-use kitchen. Enter statement floor tile. It's a more subtle way to add impact than, say, a bold eye-level backsplash.
Bonus idea: Tired of the same old subway tile? This on-trend square shape has a charming shingle-like effect.
28 of 32
Look Across the Pond
The (addictive!) Instagram feed of Britain's deVOL kitchens offers an endless stream of age-old English inspiration, from decorative "spot cutouts" to painted wooden knobs. Take a cue from the kitchen experts and hide modern appliances such as microwaves in cabinetry that runs flush with the countertops.
29 of 32
Pecky Cypress Finishes
If you can't get enough of the reclaimed-wood look, here are two words you'll be hearing a lot: pecky cypress. Seen here on the hood and island, it's a type of wood that has a grainy texture thanks to long, narrow burrows or cavities.
Bonus idea: From boxy appliances and islands to linear shelves, kitchens tend to have a lot of straight lines. Soften the room with orb lights.
30 of 32