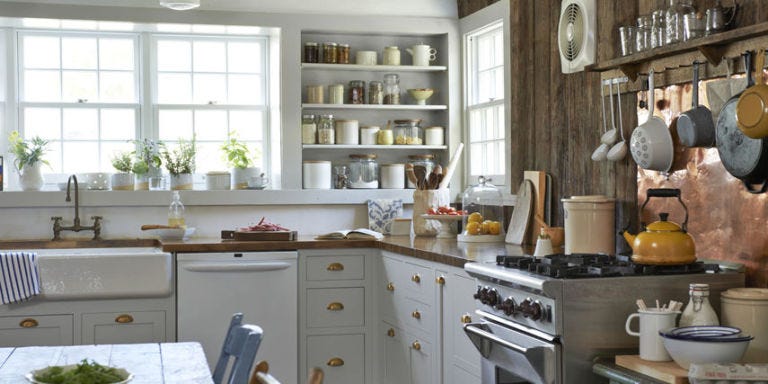 Before: Old Cabinets
The counters and cabinets in this kitchen needed a chic update, but the vintage stove had too much charm and potential to get rid of.
1 of 45
After: Bright White
The homeowner kept the kitchen's old Chambers stove and cabinets—now improved with new fronts and a coat of Benjamin Moore's Patriotic White—but jettisoned the Formica counters and dark backsplash in favor of marble and white subway tiles.
A Design Workshop stool from ABC Carpet & Home and a Dash & Albert rug decorate the kitchen.
2 of 45
Before: Basic Fixtures and Finishes
Basic fixtures and finishes and a poorly planned layout offered little in the way of style or function in this New York farmhouse.
3 of 45
After: Charming Farmhouse Kitchen
Switching out the stainless steel sink that came with the house for an apron-front porcelain one boosts the room's charm. Brass bin pulls, butcher block countertops, and a copper backsplash behind the range add warmth to the new gray cabinets.
4 of 45
Before: Dated But Spacious
The kitchen in this California bungalow had some interesting decorative (and dated) touches.
5 of 45
After: Bright and Airy
A mellow gray-and-white palette sets a calm tone for the whole house. Natural elements—vintage wooden cutting boards, the Shaker-style barstools' woven rush seats, and a faded antique wool runner—warm up the cool space.
6 of 45
Before: Dull Cabinetry
While they had blah beige fronts, the original cabinets were charming and in good shape, so the owners of this Maine home didn't replace them.
7 of 45
After: Farmhouse Fixtures
The old cabinets were revived with bright white paint and cast-iron knobs, while a new butcher-block countertop finished off the look. Having saved by sprucing up (instead of ripping out) the original cabinetry, the couple splurged on a porcelain apron-front sink, which also echoes the down-home style of the new basket weave tile backsplash.
8 of 45
Before: Lack of Storage
More of a "corner" with appliances, this Georgia home's kitchen had little storage and no comfy seating.
9 of 45
After: Preppy Plaids and Black Accents
A new breakfast bar shrank the room's size but boosted its storage. The butcher-block countertops, black cabinetry, large industrial pendant lights, and a porcelain apron sink—all from Ikea!—kept costs down without sacrificing style, while black appliances (less expensive than stainless ones) match the cabinets for a seamless effect.
10 of 45
Before: Cramped and Worn-Out
With a cramped layout, worn-out appliances, and bland cabinets and countertops, the kitchen of this coastal cottage felt more like a crowded corner than an inviting cookspace.
11 of 45
After: Antique Touches
New backsplash tile, along with salvaged fixtures, completely changed the vibe of the space. Run-of-the-mill pendants were replaced with antique versions for instant wow factor. With still-functioning pulleys, these industrial numbers (once used in a billiard hall) make for eye-catching (and hardworking) task lighting above the island.
12 of 45
Before: Dark & Dated
Old cabinetry and tile counters covered this kitchen before its renovation.
13 of 45
After: Open & Airy
The cabinets and surfaces were swapped in favor of Ikea units painted Barely Beige by Benjamin Moore and topped with zinc. Above, open shelving displays collectibles alongside everyday dishware. The ceiling is painted Creamy White by Benjamin Moore.
Bright idea: An inbox and outbox keep produce and bread organized.
14 of 45
Before: Dull Kitchen Island
This bulky eyesore featured dated wood.
15 of 45
After: Smart Details
The island was revamped with lapboard, limestone countertops, and new doors fronted in chicken wire. The finishing touches: crown molding, antique wooden corbels, and Chester Grey paint by Ralph Lauren.
16 of 45
Before: Decades Old
A faux-brick backsplash? Dark cabinets? Formica counters? This room boasted every bad-kitchen cliché.
17 of 45
After: Beautifully Bright
Fixing the kitchen proved inexpensive, thanks to subway tiles and plenty of white paint, and a few bargains: Ikea cabinets, butcher-block countertops, and farmhouse sink. An antique bakery table, equipped with Pottery Barn baskets, functions as the kitchen island. The homeowners found the barstool in the trash.
18 of 45
Before: Mismatched Kitchen
Country Living's editor-in-chief, Sarah Gray Miller, had an old kitchen in her rental unit that proved especially depressing with its scant 120 square feet crowded by mismatched cabinetry and an arsenal of window treatments: Valencias, café curtains, and venetian blinds conspired to obscure the Hudson River views.
19 of 45
After: Budget-Friendly Surprise
When the goal is rustic simplicity, there's no need to spend tons on custom cabinetry and granite counters. Paint transformed oak cabinets, bought off the rack at Lowe's and topped with Ikea's birch slabs, while the same white semigloss brightened stools from Walmart. An old tablecloth was used as a skirt for the farmhouse sink, and classic glass cannisters, also Walmart finds, were used for storage instead of upper cabinets.
20 of 45
Before: Dark and Cramped
Since the "kitchen" in this New Hampshire lake house is part of the main living area, it had to look good and incorporate clever storage solutions.
21 of 45
After: Open and Spacious Kitchen
A Kohler sink (set atop an accordion table from Arhaus Furniture) and a simple GE stove do the trick. The family upgraded the makeshift shelves with uniform rectangular units. Antique duck decoys, a midcentury ad for fishing lures, and a wooden arrow sign mingle with cookware on the shelves.
22 of 45
Before: Dark Paneling
The homeowners of this Austin house ripped out the cabinets in the kitchen in favor of open shelving and freestanding furnishings.
23 of 45
After: Open Shelving
The homeowners replaced the awkward upper cabinets with shelving that makes the most of the kitchen's pitched ceiling. They also ditched the lower cabinets for freestanding components, including a stainless steel rolling island and a mango-wood Crate & Barrel console fitted with a marble top. A red Aga gas stove offers a serious upgrade over the old electric model.
24 of 45
Before: Basic Kitchen
When a pipe burst under the sink, this homeowner knew it was time to remodel.
25 of 45
After: Unified White
To ensure that the new bottom cabinets matched the old upper units, the homeowner painted both with Benjamin Moore's Linen White—a move that lightened up the whole kitchen.
Laminate countertops were removed in favor of Ikea's affordable oak option (from $169 for 96 7/8″L; ikea.com)—which cost just $800 total and can be sanded down when cooking blunders occur.
26 of 45
Before: Dark and Cramped
This kitchen's heavy, wood island and dark brick backsplash created the feeling of cramped quarters.
27 of 45
After: Open and Airy
Designer Sara Story and her sister, Lisa, share a laugh in Lisa's much-improved Connecticut kitchen.
Sara banished the awkward upper cabinets—and dated wooden valance—from the wall with a pass-through window. She replaced the rest with sleek custom units and got rid of the hulking island. Sara also scrapped the bricks and installed plain Sheetrock, painted white.
The stainless steel appliances are by Fridgidaire and Maytag. But the best update? Barclay's apron-front sink.
28 of 45
Before: Needs Some TLC
The owner of this Pennsylvania home, Mary Jane McCarty, planned a "kitchen de-modernization" project that included replacing dated linoleum with stock tile from Home Depot, laid at an angle to achieve the charming look of an old pharmacy.
29 of 45
After: Updated Vintage-Look
McCarty also hung custom cupboards above a vintage basin, installed a teakwood countertop around the sink, and added a marble backsplash. The flower-shaped table belonged to her grandmother.
30 of 45