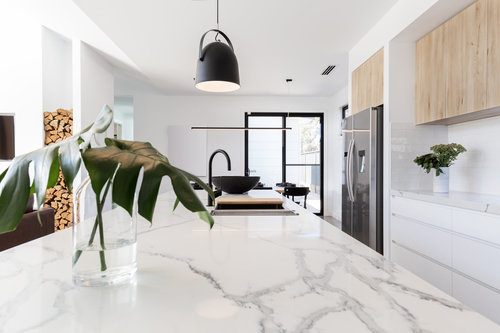 How much does it cost to remodel a kitchen?​
Kitchens are an incredibly popular remodeling choice for homeowners. In fact, the National Association of Homebuilders has said that kitchen remodels accounted for 78% of projects last year, making it the second most popular home renovation.
Kitchen remodels don't have to be massive to make an impact. Smaller remodels tend to have a greater return on investment because they often have mass appeal and are more functional than those based on aesthetics. More expensive projects tend to cost more due to the emphasis on style and aesthetics. When you're planning a remodel, it's important to consider resale value. Not everyone wants a vintage kitchen with an avocado-green refrigerator, but everyone does want a kitchen that's laid out well and has functioning electricity and plumbing.
A kitchen remodel can take many forms, but for a 200 square foot kitchen with 30 linear feet of stock cabinets, no structural or layout changes, new appliances, and a 30 square foot granite countertop (plus 20% for unplanned expenses) you can plan for costs from $8,000-$25,000.
Cost factors
There are a lot of factors that go into the cost of a remodel, which will be explained in more detail in this guide, but the first part to consider is your budget. While you may not be able to stick to your budget completely, it's important to understand what things are going to cost before you make any definitive plans.
Materials will be a huge factor in the cost of the remodel. Marble flooring, for example, is much more expensive than laminate. Custom cabinetry can cost triple what stock cabinets cost. With that in mind, you may choose to refinish or repair the cabinets you currently have rather than replacing them entirely.
Costs will also vary depending on how many professionals are involved in the process. You'll have a contractor, but you may also need an electrician, plumber, and maybe even an architect. The more pros that are involved, the more you'll have to spend.
How to budget
With so many options and decisions for a kitchen remodel, you have to create a budget and stick to it as much as possible. Before writing out a budget, there are a few questions you should ask yourself:
What do I want in a kitchen?
What can I afford?
How will I use the kitchen (cooking, entertaining, studying, working, etc.)?
How long can I go without a kitchen?
Are we planning to sell in the near future?
In an ideal situation, you can allocate your budget as follows: cabinets (25%), appliances (20%), countertop (15%), lighting (10%), plumbing (10%), flooring (5%), and an additional 10% for installation. What you spend on your remodel may not, of course, be quite the same in terms of distribution. For example, if you're only refinishing your countertop instead of replacing it, you may be able to allocate more of your budget for lighting.
Another key point to remember when it comes to budget is that you'll have to pay for your designer/architect/contractor, whoever is going to oversee the project. That will typically be a percentage of the total project cost. Additionally, you should plan for an extra 10-20% for any unplanned expenses that may come up.
Layout
The "working triangle" is a classic design concept that connects the sink, refrigerator, and cooktop. This is also sometimes referred to as the "work zone." Having an effective and efficient working triangle means that it's easier and more convenient to get to the places that you need most often. Moving from getting things from the fridge, to chopping, to washing up will be easier for you and any other cooks working in the kitchen.
There are several different kitchen layouts, and it really depends on the size of your kitchen which layout works best. No matter what you choose for your kitchen layout, you'll need to work closely with a designer to create the best workspace that you can. Let the designer know how many people use the kitchen and how you plan on using the space.
Layout
Description
One wall

Cabinets and appliances are all placed against a single wall

Good for open spaces and studios

May include an island

Galley

Cabinets and appliances run parallel to one another in a row

Useful for small spaces

Good for single-cook kitchens

Horseshoe
Creates a "U" shape of cabinets, countertops, appliances, and an island
Peninsula 1

A countertop juts out from an L-shaped kitchen to create a working space

Appropriate when you don't have room for an island

Island 2

Useful for larger kitchens

May include a sink or cooktop

L-shape

Two walls of cabinets and appliances make up this kitchen layout

Good for wide open spaces

Accommodates a large kitchen table
Part of the workspace means leaving room for foot traffic. You need to leave at least about 42 inches between the counters and an island, if you have one. There needs to be room for furniture if you want it, and there needs to be room for multiple people to work in the kitchen.
The cost for changing the layout of a kitchen will vary dramatically based on how many changes need to be made. Does a wall need to be removed, or do you just need to add cabinets and a new countertop?
Design
One of the first factors to consider when planning your remodel is what style or design concept you're looking for. There are many different styles of kitchens, and browsing kitchen designs online and in magazines can help give you a good idea of what kinds of styles are available. Depending on your budget, you may not be able to achieve the "showroom look" but you may be able to find elements that achieve the style you want. Talk to a kitchen designer, architect, or contractor for help choosing the right elements for your style.
Style
Description
Minimalist

Few lines

Solid colors

Sleek finishes

French

Cookware as décor

Airy colors

Tile floors

Modern

Sleek hardware

Clean lines

Bright, clean colors

Traditional

"Classic American" style

Raised cabinets

Antique elements

Monochromatic
Black-and-white elements, or single color and neutral color combination
Farmhouse/country

Warm and inviting

Wide sinks, lots of windows

Open floor plan, classic elements

Wood flooring and large kitchen table

Scandinavian

Mostly white

Hand painted tiles

Lots of light

Mediterranean

Wood and tile elements

Featured range hood

Warm colors

Craftsman

Heavily features wood elements

Handcrafted materials like tiles

Vintage/rustic

Natural materials like wood and stone

Vintage-style appliances

"Distressed" style
Electrical, plumbing, and gas lines
Depending on the extent of your remodel, you may need work regarding the electrical, plumbing, and/or gas lines. If you are moving the position of appliances, installing a wet bar 3 or garbage disposal, or anything else of that nature, you'll probably need to hire a specialist. Your contractor may already work with these pros. If you need to make any of these changes, you'll need an electrician or a plumber. For gas lines, you'll need either a master plumber or a plumber with a specialty natural gas license.
Here are some possible projects that may be done during a kitchen remodel:
Outlet installation: installing a new outlet is common and costs $100-$750 each.
Gas line installation: this is another common project that may be available in places with natural gas. Installation costs $50-$1,000 depending on the scope of the project.
Sink installation: standard sink installation costs $200-$300, not including the cost of the sink.
Garbage disposal installation: garbage disposals vary in cost, but installation costs about $300 on average.
Faucet and sink
You're going to spend a lot of time at your kitchen sink, which is why it's important to find a sink and faucet that suits your kitchen's style and your personal kitchen needs.
In terms of sink options, the first decision is whether or not you want a single or a double sink. Small kitchens don't always have the room for a double sink, and a double sink may not fit some larger pots. Double sinks may be more water-efficient, but there are generally fewer options for faucets. The average cost of single sink installation is about $360, while double sinks average around $475.
There are a few options for materials including stainless steel and porcelain, the two most popular materials. High-end materials are also available, such as copper and natural stone. Porcelain sinks, for example, average around $650 including installation, while natural stone sinks cost $1,000-$2,500.
Sinks are either undermount or drop-in, with undermount sinks requiring more work and skill to install. Drop-in sinks are more common and are sometimes the only option, depending on your countertop material and countertop thickness.
Faucets come in many styles, materials, and finishes, but you'll need to use the right faucet for your sink. Faucets generally fall into two main categories: two-handle and single-handle, and some sinks have the faucet holes precut, so you'll need to make sure you choose the right faucet type. Most faucets cost less than $100 including installation, but high-end faucets may cost as much as $1,500.
You also have options in terms of what finish you want in a faucet, from chrome to brushed.
Walls
Depending on the structure of your home and your desired kitchen layout, you may need to make some changes to the walls. That may take the following forms:
Repairs: this may involve patching holes, but it could be as involved as repairing water damage. Drywall repairs, for example, range in cost from $90-$290 depending on the extent of the repairs.
Painting: one way to give your kitchen a quick makeover is to repaint the walls. A shift from white to sky blue, for example, changes the entire personality of your kitchen. Painters typically charge $50 per hour.
Demolition: removing a wall may become part of your remodel, and starts around $1,000 and increases with the complexity of your project.
Floors
Flooring is an understated component of a kitchen remodel, but it's actually a pretty big decision. There's a lot of foot traffic in a kitchen, so the floor needs to be durable and long-lasting.
Some of the most popular kitchen flooring materials are:
Backsplash
A backsplash is one of the most fun and useful elements to a kitchen. It's an opportunity to create a decorative area as an accent point behind the stovetop and counter. It's also a way to save your wall from stains due to splashes from food preparation. Backsplashes 6 are also easier to update when you don't want to spend money on a full remodel.
There are many different choices of material for backsplashes, some of which are easier to clean and lower maintenance than others.
Material
Pros
Cons

($5-$20/sq.ft.)

Available in many colors and patterns

Easy to clean

Not as many varieties as ceramic tiles

($5-$100/sq.ft.)

Custom options available

Easily available

Easy to clean and install

May require sealing

Many grout 5 lines

($7-$20/sq.ft.)

Easy to install

"Cozy kitchen" appearance

Difficult to clean

May stain

Mirrors

($8-$15/sq.ft.)

Illusion of larger kitchen

Easy to clean

Not suitable for irregular shapes

Few sizes available

Natural stone

($10-$100/sq.ft.)

Wide variety of stones to choose from

High maintenance

Must be sealed regularly

Requires acid-free cleaners

Chalkboard paint

($20/gallon)

Inexpensive

Easy to install

Creates a dark kitchen

May wear down after multiple cleanings

Glass

($20-$30/sq.ft.)

Gives the appearance of larger space

Easy to clean

May have a lot of grout joints 7

Engineered stone

($20-$50/sq.ft.)

Lower maintenance than natural stone

Expensive

Some may be difficult to clean

($30-$50/roll)

Many colors and patterns available

Inexpensive

Difficult to clean

Difficult to remove

Ceiling tiles

($30-$50/sq.ft.)

​

Low maintenance

Expensive

Requires experienced installers

Metal

($30-$100/sq.ft.)

Low maintenance

Lots of pattern variety

Expensive

Some are heat-sensitive and cannot be used near cooktops
Countertops
Your countertop serves a couple of purposes. The most important purpose is to provide an area to prepare and serve food. The other main purpose can be to act as an aesthetic focal point in the room. Countertops come in a wide variety of colors and materials, and you can really make a statement in terms of kitchen design.
Plan on having a counter area at least 36 inches wide, with at least 18 inches on one side of the sink and 24 on the other. Popular countertop materials include:
Material
Description
Cost

Laminate

Inexpensive

Readily available laminated particleboard 8

$10-$20/sq.ft.

Easily customizable

Provides a unique appearance

$10-$70/sq.ft.

Wood

Available in many thicknesses

Butcher block appearance

$20-$300/sq.ft.

Durable natural stone

Comes in many colors and textures

$35-$500/sq.ft.

Elegant

Heavy natural stone

Often features mineral veins

$57-$200/sq.ft.
A modern formula of lighter weight concrete
$75-$200/sq.ft.
You'll have to make a decision on whether you want to replace your countertop or refinish or repair your current countertop. There are some issues that are fixable, including chips and cracks, broken tiles, and failed seams 7. Repair costs are based on the nature of damage and the material. Expect to pay $80-$700 for repairs, but compare that to the cost of a new countertop.
If you have a wood countertop, you have the option of sanding 9 and refinishing the surface, which may cost $100-$1,500 depending on the type of wood and nature of any existing damage. If you have a laminate countertop, you could actually save the base of the countertop and have the surface refinished with a new color or pattern. A new layer would cost $560-$1,600.
Storage
A kitchen needs plenty of storage space to hold pantry items and kitchen tools, which that can come from cabinets and shelving, or, more likely, probably some combination of the two. Cabinets can be the most expensive part of a kitchen remodel, but there are three main types of cabinets:
Stock: stock cabinets are prefabricated and ready to install right away. You generally have fewer options in terms of colors and door styles, and stock cabinets are generally less expensive ($60-$200 per linear foot) than semi-custom and custom cabinets. You may not find a cabinet to fit unusual spaces.
Semi-custom: semi-custom cabinets are available in standard sizes, but come in a wider range of colors, finishes, and door styles than stock cabinets. These cabinets cost $100-$650 per linear foot.
Custom: custom cabinets are the most expensive cabinet option ($500-$1,200 per linear foot), because you can customize every piece of the process, from the wood type to the door style to the internal components.
Common cabinet materials include:
Hardwood: expensive, durable, long-lasting. Usually used in conjunction with other materials due to cost.
Plywood 10: composite mix of wood particles and glue. Very strong and pressure treated.
Medium-Density Fiberboard: also known as MDF. Strong and durable, but susceptible to moisture damage.
Particleboard 8: lightweight, not as durable as other materials. Inexpensive.
Veneer: veneer 11 is a thin wooden board that covers the cabinets. This is painted or finished.
Yet another factor to consider when dealing with cabinets is whether you want to replace them, reface them, or refinish them. As with all things in a kitchen remodel, there are pros and cons to each.
Option
Pros
Cons
Refacing

Allows you to keep the same cabinet bases

New veneer or color

Less expensive than new custom cabinets

Can't change the internal components

Doesn't fix structural problems

Refinish

Possible DIY project

Less expensive than refacing

Labor intensive if DIY

Produces sanding debris

Replacement

Gives kitchen a fresh start

More choices for colors, materials, layout, and internal components

Expensive
Ventilation
Every kitchen needs adequate ventilation, which means you'll need a ventilation hood to take smoke away from the room and push it outside. There are different types of range hoods depending on your preferences and kitchen design.
For example, you can get an island 2 range hood for an island range, or you could get a microwave/range hood combination that serves dual purposes. Some range hoods are wall-mounted, while others are undercabinet. If you already have the ducts in place from a previous hood, you will have lower installation costs. If everything is new, however, your costs will be higher. Hoods range in cost from $50-$1,200, and installation costs an additional $400-$1,500, depending on complexity.
Lighting
There are three lighting concepts that every home and kitchen has, whether you realize it or not: ambient lighting, task lighting, and accent lighting. Ambient lighting produces general atmosphere lighting, task lighting is brighter and more focused on a workspace, and accent lighting highlights objects or architectural features.
In a kitchen, achieving these lighting elements can come in several forms:
Recessed or track lighting: this provides ambient lighting that will illuminate the entire kitchen. Work with a designer to make sure that you don't have too much light. Too much light can overpower the room and all of the hard work and money you've put into the remodel. Recessed lighting costs $400-$1,200. Track lighting kits may cost as little as $50 for the parts, but you will still need to pay for installation.
Chandeliers and pendants: these are particularly popular in areas with high ceilings. Pendants and chandeliers also allow you to add some color or personality to your kitchen. This type of lighting fixture can provide either ambient or task lighting. Pendant lamps range from $30-$300 each. Chandeliers range in price from $50-$5,000 depending on size and material.
Wall lights: wall lights are often accent lights and can highlight your home's architecture. Individual sconces range from $10-$50 each, not including installation.
Undercabinet: a common light feature in kitchens is undercabinet lighting, which can both highlight your beautiful countertop and provide adequate task lighting for cooking and preparing food. Undercabinet lights are sold in 24-inch lengths and range in cost from $20-$50 each, not including installation.
Toe kick lighting: the recessed area under cabinets is referred to as the "toe kick", and lighting in this area can be a great safety feature for avoiding run-ins in the middle of the night. Additionally, toe kick lights provide soft accent lighting to your new cabinets and flooring. Toe kick lighting fixtures are generally the same as undercabinet lighting fixtures.
Appliances
Appliances are some of the final pieces installed in the kitchen, but you need to plan for them and decide whether you're repairing what you have or replacing them entirely. Some appliances are absolutely necessary, while others are simply nice to have.
Lower prices in the table show the cost for lower quality basic appliances, while higher prices show the cost for high-end, energy efficient apliances with extra features. Even thought energy efficient appliances have a higher price, they can fully counteract this cost by savings in utility bills. Energy-efficient professionals can help you choose the right appliances and show you how they can improve your kitchen.
Appliance
Necessary/Optional
Price
Optional

$50-$1,000/appliance

$200/installation

Optional

$50-$2,000/appliance

$300/installation

Necessary

$200-$3,700/appliance

$1,000/installation

Cooktop, standalone​

Optional

Unless not using a range

$200-$3,600/appliance

$125-$275/installation

Optional

$300-$3,000/appliance

$325-$450/installation

Wall oven, standalone

Optional

$400-$1,700/appliance

$125-$275/installation

Range​

Necessary

$400-$6,500/appliance

$125-$275/installation
You'll also want to consider if your current appliances are worth repairing or keeping instead of replacing them outright. Repairs typically cost between $50 and $600 depending on the appliance and the nature of the repair. If the cost to repair becomes more than half of what you would spend on a new appliance, you may want to consider replacing it.
Whether you're moving appliances to a different location or you're adding new appliances to your kitchen, you'll want to make sure that you have adequate space to access the unit. That means leaving 30-48 inches of space in front of things like your oven and refrigerator.
Labor
Kitchen remodeling can quickly get very complicated, and there probably isn't one person who can do it all. There are going to be several people involved in the process:
Architect: your particular remodel may not require an architect, but if you're doing anything that requires structural changes to the layout of your kitchen (like removing a wall or adding a window), you'll likely need to consult an architect during the planning process. Architects typically charge by the hour ($100-$125 per hour), but some, if overseeing the project, charge a percentage of the total project cost (10-17%).
Kitchen designer: if you don't hire an architect, you may need to consult a kitchen designer instead. Kitchen designers can plan your remodel and help you find the right style and "look." Kitchen designers may charge a one-time consulting fee/house visit, but more often than not, designers charge a percentage of the total remodel cost for managing the entire project. Expect to pay $250 for a one-time consultation or 10-20% for managing the project.
Contractor: instead of hiring a designer to oversee the project, you could instead go with a general contractor who has experience remodeling kitchens. Contractors will oversee the whole project, and they often work closely with a team of electricians, plumbers, and carpenters. Contractors often charge as a percentage of the total of the remodel cost, similar to a kitchen designer. Think of your contractor as your remodeling manager. Contractors often charge 10-20% of the total project cost.
Plumber: if you need any updates to your plumbing or perhaps a new line to accommodate a garbage disposal, appliance, or sink, you'll need to work with a plumber. Your contractor may already know a reliable plumber so you don't have to go searching for one. Plumbers charge by the hour in addition to material costs ($55-$65 per hour).
Electrician: much like plumbing work, you may need to hire a specialist for electrical work, particularly if you need a new outlet for appliances or lighting fixtures. Electricians charge by the hour ($65-$85 per hour).

Carpenter: carpenters are hired when you require new construction, though sometimes your general contractor may be able to perform that work without hiring outside. Carpenters charge by the hour ($70 per hour).
Kitchen remodeling projects
Not all kitchen remodels are the same, which is why we've provided some examples of different remodels and what they include. Estimates are based on a 200 square foot kitchen.
Remodel type
Includes
Cost
Small kitchen remodel

Reface cabinets

No layout changes

New refrigerator

Laminate countertop

10% for unplanned expenses

$7,000-$8,000
Mid-range kitchen remodel

Stock cabinets

No structural or layout changes

New appliances (refrigerator and range)

Mid-rage granite countertop

Mid-range flooring

20% for unplanned expenses

$8,500-$25,000
High-end kitchen remodel

Custom cabinets

New high-end appliances (refrigerator, microwave, range, garbage disposal, dishwasher)

Luxury countertop

New luxury flooring

New range hood

20% for unplanned expenses

$30,000-$75,000
Enhancement and improvement costs
Kitchen island or peninsula
A kitchen ideally will have space to prep or sit and eat. Some kitchens may be able to accommodate a kitchen island or a peninsula. An island 2 may not be suitable in a smaller kitchen, but if you have the room, an island can add to the feeling of an open space. A peninsula 1 is functional and works in smaller kitchens. A 24 sq.ft. island with a granite countertop would cost about $4,500, while an equal sized peninsula would cost $3,130.
Water treatment system
One add-on for your kitchen remodel is a water treatment system. This would be a built-in 12 system that filters water for drinking and cooking. A reverse osmosis water treatment system, for example, would cost $250-$400.
Garbage disposal
A garbage disposal is another add-on that you may desire in your new kitchen. Garbage disposals vary in price based on the size and quality and how much plumbing needs to be altered to accommodate it. On average, however, homeowners find that garbage disposal installation costs around $300.
Windows
Everyone loves a well-lit kitchen, and for many that means a kitchen with windows. It's one task to simply replace a window, which averages $1,500 for one window. The price to replace a window will also vary significantly based on the style and size of the window as well as materials and trim. It's a different issue entirely to put in a window where there wasn't one before. An architect may need to get involved, but the bigger issue is in the construction of a new window space. This may cost at least 50% more than a replacement window, and it may not even be an option depending on the specifics of your home's layout.
Additional considerations and costs
Kitchen remodels can get very expensive, but there are a few ways you can try and save money. One method is to keep your current layout, including appliance and sink placement. You'll save on plumbing and electrical costs. You probably can't do everything yourself, but certain elements can be DIY, such as painting. Another tactic for saving money is to avoid replacing the cabinets. The cabinets eat up a huge portion of a remodeling budget, so refacing or painting cabinets could be a better alternative.
Depending on the extent of your remodel, you will likely need a permit from your local municipality. This will probably be necessary if you need to make any changes to plumbing or electrical work, and possibly if the remodel is considered "extensive." The cost of this permit will vary based on your local government.
While it's not recommended to do an entire kitchen remodel yourself, there are parts that you can do yourself. For example, you may not be able to install a countertop on your own, but you might be able to install a tile backsplash 6. Do your research and learn what you might be capable of. Know that in most cases, however, trained professionals can do the same job in less time and have the added benefit of experience.
Don't go with the first contractor you meet. Though it may seem tedious, it's critical that you get quotes from 3-5 contractors before deciding on one. Different contractors have different experiences, and their references can give you an idea of whether your remodeling project is in line with their experience.
A good contractor or designer knows how to remodel a kitchen with safety in mind. That means creating a kitchen that's easy to move around in and also creating a remodeling space that's safe to live around while the work is underway.
It's important to have open communication with your contractor or designer to make sure that your kitchen space is planned in such a way that you can move freely and efficiently and that it suits the needs of you and your family. Does your family use the kitchen for studying as much as eating? Your contractor needs to know! Do you host elaborate dinner parties? Tell them that, too!
Avoid choosing materials that are fragile. Sure, they may be pretty, but if it doesn't last beyond a few years only to need replacing, what's the value of using it to begin with? Choose materials that are strong enough to withstand all of the hustle and bustle of a busy kitchen.
As much as contractors may try, the spaces near the kitchen may also be affected by the hectic remodel. Take care to protect any objects and spaces adjacent to the kitchen. That may mean moving furniture or artwork or possibly even covering items with drop cloths.
Before you make any permanent decisions, take the time to visit kitchen showrooms and home improvement stores to learn exactly what items and materials cost. From there you can determine what you need and what you can afford.
FAQ
What is the average cost of a kitchen remodel?
Kitchen remodels vary dramatically in cost based on the size and scope of the remodel. The average price of a moderate kitchen remodel is around $8,500-$25,000.
What order should you remodel your kitchen?
Once you have a plan and a budget, the general order is the following: breaking down your kitchen, replacing plumbing, electrical work, drywall 13, painting, flooring, cabinets, countertops, backsplash 6, appliances.
How do I start to remodel my kitchen?
Before you do anything else, you'll want to get ideas of what you want and need in your kitchen, then you need to determine your budget, at which point you can start pricing materials and contractors.
Does Home Depot do kitchen remodeling?
Home Depot employs licensed professionals that can help you plan your kitchen remodel from start to finish. You would need to set up an in-store appointment.
How much does it cost to replace kitchen cabinets?
It depends on the style and material of your cabinets as well as whether the cabinets are custom built or not. Cabinet replacement costs anywhere from $1,800 to $20,000.
How much should a 10×10 kitchen remodel cost?
A 10×10 kitchen remodel that includes a new refrigerator and range, a 15 square foot countertop, 15 linear feet of stock cabinets, and 20% for added expenses will cost about $7,000-$10,000.