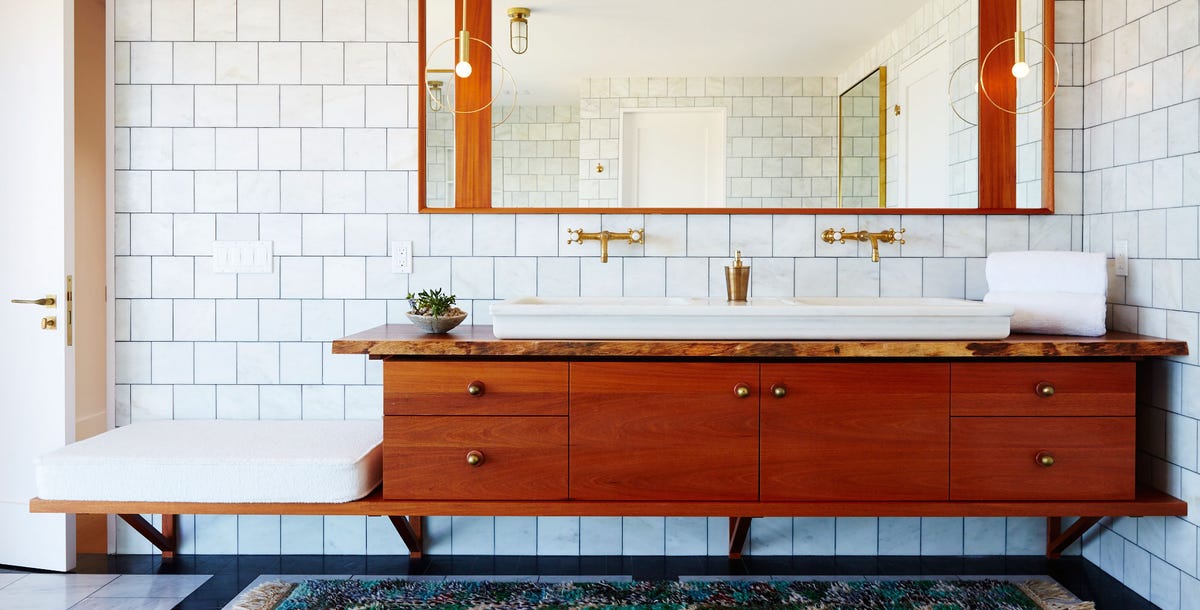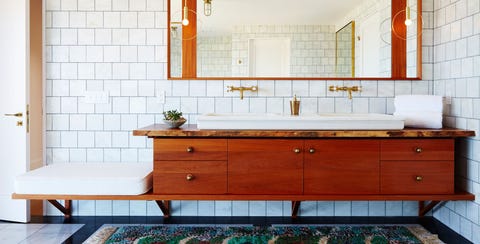 Nicole Franzen
Above all else, a bathroom needs to be clean and tidy. But it doesn't need to be purely functional, especially if you appreciate a nice atmosphere for bubble baths or mirror selfies. So we dreamed up more than sixty bathroom ideas to help you create an oasis for spa-level relaxation and style at home. Whether you're thinking of sprucing up the powder room and master bath, or you're embarking on a full-on ensuite renovation, we've got inspo to make your bathroom serious #goals.
Get A Copper Tub
Once you see this copper tub situation designed by Leanne Ford, you can't unsee it. Your farmhouse bathroom dreams just got a little bit fancier.
1 of 66
Stick to One Color
If you have a favorite color, why veer away from it? Plus, sticking to a one-tone color scheme will make things a lot easier during the design process. And it's far from boring. We also love how 2LG Studio magnifies this space and makes the awkward corner into something awesome with a custom vanity and mirror.
2 of 66
Pay Attention to Architectural Bones
Commune Design enhanced the Spanish style of this Los Angeles home by focusing our attention on the archways leading to the curved balcony door in the bedroom and laying eye-catching Mediterranean tiles. The thoughtful layout is unique and special, but it still feels livable and comfortable.
3 of 66
Forgo the Mirror
Small twist, revolutionary impact: Instead of hanging a mirror above the sink, consider displaying artwork instead as Hecker Guthrie did in this bathroom. Then put your hand soap and lotion on a small elevated shelf above the sink and hang a single slim pendant light instead of going the typical symmetrical route and flanking a sink area with sconces.
5 of 66
Expose Natural Materials
When your home is blessed with gorgeous natural bones, keep them exposed. Materials like brick and stone add so much dimension. Add color with accessories and sense of polish with fancy soaps, as done in this space by design firm Arent & Pyke.
6 of 66
Take It Outside
Outdoor showers can dramatically increase the value of your home—according to a 2018 report from Realtor.com, homes with outdoor showers tend to list for nearly double the asking price of other homes! That, along with this rustic but show-stopping outdoor shower designed by Akin Atelier, is all the convincing we need.
7 of 66
Play With Gold Accents
Gold accents can go a long way—in this case, all the way to the ceiling. The shimmery gold details in this bathroom designed by Arent & Pyke pop against the dark gray grooved drawers and black sconces.
8 of 66
Animate the Corner
Add a tree in the corner for a low-lift update that has a ton of transformative power. As seen in this bathroom designed by 2LG Studio, the palm leaf tree truly brings it to life.
9 of 66
Give Classic Design New Twists
From the floor tiles to the so the sconce, marble vanity, and even the romantic bathrobe, this bathroom designed by Studio DB has strong Art Deco roots. Though it's retro-inspired, each detail boasts a fresh, modern interpretation. And who needs a giant mirror when you can have a seriously cool sconce to look at instead?
10 of 66
Focus on the Space Itself
Designed by Studio DB, this bathtub moment is a serious stunner. Make those bubble baths even more relaxing by keeping decor minimalist and focusing on the beauty of the surrounding space (a phenomenal view doesn't hurt either).
11 of 66
Mix Your Styles
A little bit modern, a little bit industrial—we're all about this warm, light-filled bathroom designed by Black Lacquer Design. For added texture and color, bring in plush area rug, like this one.
12 of 66
Use an Etagere for Extra Storage
Another great way to introduce a ton of storage room without having to drill into your walls for custom cabinetry and shelving is by sliding in a etagere, as done in this bathroom designed by Elizabeth Roberts. And since they're exposed, you can also display some extra decor.
13 of 66
Install Floor-to-Ceiling Cubbies
These floor-to-ceiling cubbies provide ample room for storage in a Robson Rak-designed bathroom. Put things like toilet paper, cleaning supplies, and other bulk items behind closed doors, then show off your décor and towels on the open shelves. I love how these tonal towels reflect the wood grains of the storage unit itself.
14 of 66
Embrace Quirky Layouts
With hanging eucalyptus, an up cycled turquoise sink and fresh linens, this farmhouse bathroom designed by Leanne Ford is beyond dreamy. It also proves that awkwardly-shaped bathrooms can be beautiful with clever layouts.
15 of 66
Focus on Shape and Materials
If you want a fashionably fancy bathroom, take note from this space by Hecker Guthrie. Though it's sophisticated, formal, and undeniably chic, nothing about it feels too showy or ostentatious. Rather than bringing in flashy gold mirrors, they stacked two frameless round ones for a unique design. Similarly, they chose artful, modern lighting instead of over-the-top chandeliers. This allows us to focus on the real statement: that sculptural metallic and red marble sink. The dark wood details and wall paneling also bring in a down-to-earth, nature-inspired sense of grit without dressing the entire space down.
16 of 66
Go Big in a Tiny Space
Don't let tiny rooms deter you from going big. Interior designer Shaun Smith's New Orleans home is a treasure trove of beautiful and clever design solutions. If your bathroom is too small for shelves with a lot of depth, add extra storage by placing a tray over the hamper. Keep your hand towels and florals there to brighten up the room. And most importantly, have fun with color.
17 of 66
Bring the Outdoors In
Just because you can't invest in an outdoor shower doesn't mean you can't make your bathroom feel like it's outside. Play up garden views with modern glass doors and windows (and let the light pour in), and introduce some greenery in the shower. Plants help rid the air of chemicals left behind by cleaning and beauty products. Plus—they instantly add life to any bathroom. Then add some curtains for privacy, as design firm Hecker Guthrie did here.
18 of 66
Enhance Privacy
This wall partition in a Commune-designed bathroom makes a world of difference, both functionally and style-wise. The cream-colored screen soften the space and adds a contemporary feel while speaking to the Art Deco shape of the mirror. And best of all, it adds a touch more privacy. A folding screen could also work as a temporary option.
19 of 66
Spotlight a Fresh Color
From the minty green wall tiles to the freestanding sinks, matte finishes, terrazzo vanity, and hairpin legs, it's pretty hard not fall in love with bathroom designed by 2LG Studio. The Art Deco-inspired floor tiles in fan formation lay the perfect foundation for a refreshing bathroom.
20 of 66
Lean Your Artwork
Rather than hanging fine art on the walls, simply lean it on the counter for an effortlessly cool elegance, as done in this moody bathroom designed by Arent & Pyke.
21 of 66
Paint the Ceiling
In this master bathroom designed by Julie Rootes Interiors, the white marble shower, walls, and vanity set the tone for a luxe, cohesive look. The gallery-esque floor lamp doubles as modern art, which contrasts nicely with the traditional elements throughout. And the high-gloss ceiling feels both contemporary and fresh while the timeless, neutral color keeps the space classic. (Pro tip: The higher the paint sheen, the easier to clean and maintain—especially in high-moisture areas, like a bathroom).
22 of 66
Use All Available Space
Use all available surfaces as makeshift shelves, whether it's a windowsill or mantle, as designed Elizabeth Roberts did here. While fireplaces aren't exactly frequent bathroom fliers, we're digging this one as an unexpected statement. The floating tub clearly steals the spotlight, though.
23 of 66
Add a Step Stool
When decorating a child's bathroom, opt for colors and motifs that are both youthful and timeless. In this bathroom designed by Studio DB, the neutral green colors and geometric tiles do the trick. Then add a fun step stool under the sink so the little ones can reach it (and to make the space feel more playful).
24 of 66
Go Understated Glam
This sweet bathroom designed by Leanne Ford is a lesson in small upgrades that can make an outdated space feel brand new. The contrast between the hyper-realist, gritty photograph against the classic black and white striped wallpaper and glitzy chandelier create a nice juxtaposition. She added an accent magazine rack, custom linen curtains, a hand towel ring, and a case to polish things off without having to replace the existing sink and toilet.
25 of 66
Loosen Up
A bathroom is the perfect place to have a little fun with pattern, shape, and color. And there's no place better to look for fun bathroom inspiration than 2LG Studio's portfolio. In this bathroom, they assert a strong sense of symmetry with double sinks featuring round vanity and linear frame. These two shapes are played up in the mock wood floor tiles and oval sinks.
26 of 66
Make the Tub the Star
Now this is how you design an approachable yet fancy bathroom. Robson Rak chose the perfect placement for it to be the star: Right beneath the window and flanked by romantic sheers for just a touch of privacy. The low-hanging pendant adds some offbeat charm, too, without stealing the show.
27 of 66
Use Vertical Space
It's easy to overlook a room when it's super tiny, especially because there simply isn't enough useable space for décor. But it's definitely possible—and well worth it—to elevate and personalize these little rooms. Take this powder room in Ailana Michelle Ralph's home, for example. With a light blush pink wall color and a surrounding gallery of eclectic artwork, the small room packs a lot of punch.
28 of 66
Add an Extra Powder Room
If your space allows, call your contractor and put a powder room under the stairs on the main floor—an extra guest bathroom on the main floor will always come in handy. The southwestern vibes in this one designed by are Leanne Ford make it casual and inviting.
29 of 66
Pull Up a Vanity
The velvet stool and light up mirror make makeup application easier and more style in this Studio DB-designed space. A vanity is the perfect addition to a master bathroom. So if space allows, take note.
30 of 66