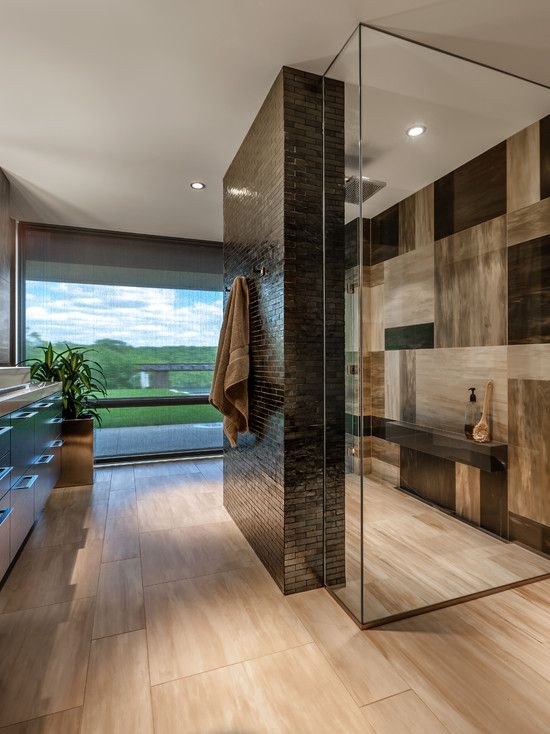 Looking for great bathroom ideas and inspiration for your bathroom renovation? The trend of contemporary bathroom designs is scaled down, minimalist, highlighting warm, earthy tones. However, amenities and features have taken on a new level of awesomeness. Presenting are 50 of our top bathroom ideas for upgrades and renovations.
1. Rain Showers
Rain showers are slowly becoming the norm of modern bathrooms. Offering a lighter water pressure and mirroring the effect of a downpour, rain showers create a calming effect throughout your bathroom.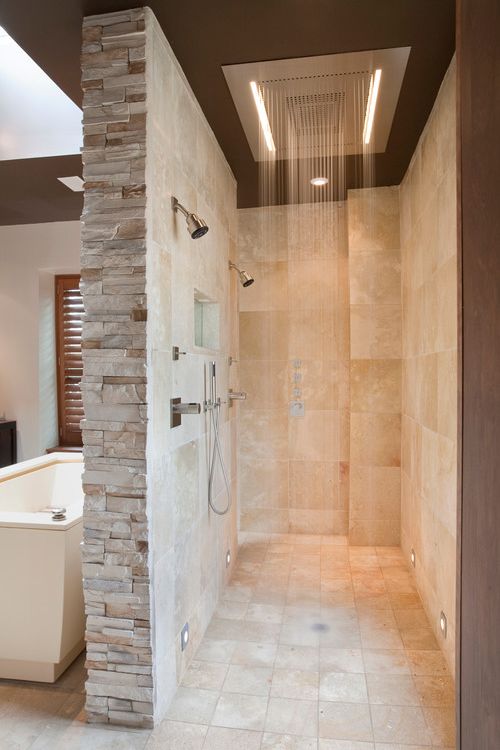 2. Dark Statement Walls
A dark feature wall adds a mysterious, intimate effect to your room. Paint or tile one wall with black or any deep shade of your favourite colour.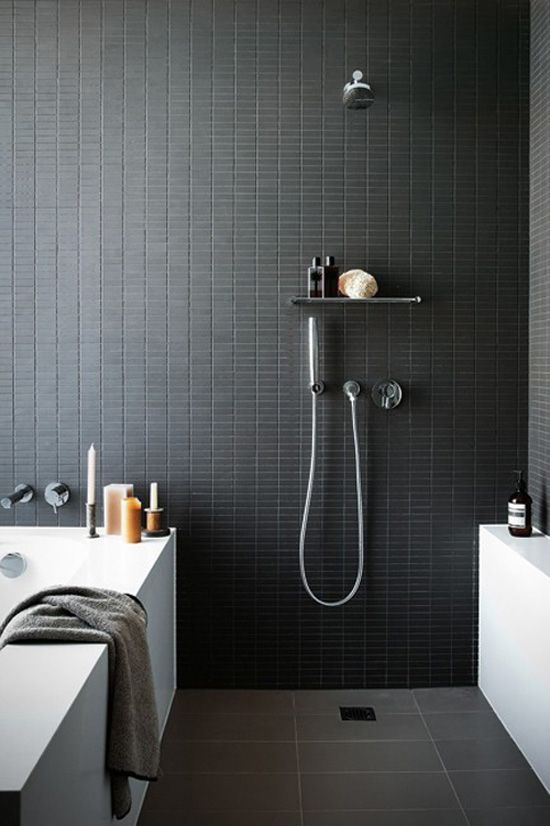 3. Orchids
Orchids are sturdy plants that can survive in minimal sunlight and moist surroundings. The thick plastic-like flowers come in interesting shapes and colours. Perfect to cheer up a bathroom.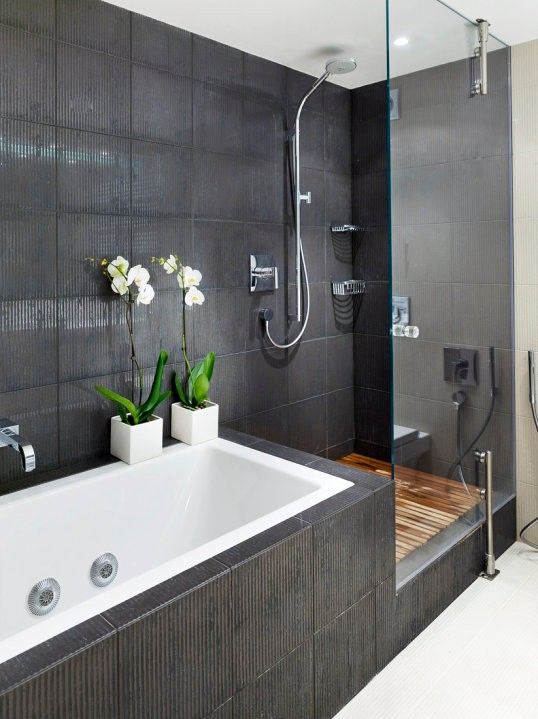 4. Creative Storage
Take out all the clutter. Messy vanity and bathroom countertops are passe. Manage clutter with some creatively hidden drawers and storage.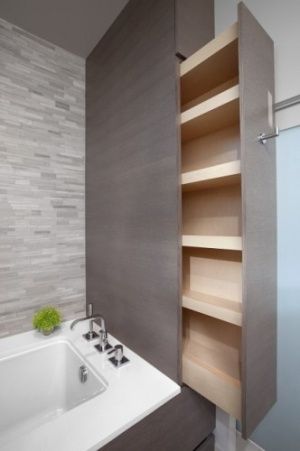 5. Flowing Basins
Odd shaped wash basins are among our top bathroom ideas and renovation inspiration. The most popular styles are elongated and grooved basins.
6. Recessed Walls
Gone are the bulky bathroom cabinets and even the more recent floating shelves. In place are recessed walls which are handy for your miniature plants, candles, and toiletries.
7. Skylights
The trend of darker bathrooms is compensated with the rising popularity of skylights.
8. Pebble Floors
Clean round stones naturally complement refreshing water. Not to mention, the natural pebble stone grooves provide the needed traction between wet feet and floor.
9. Hardwood Floors
Hardwood floors are now acceptable for the bathroom. Provide a rug to better manage water drips.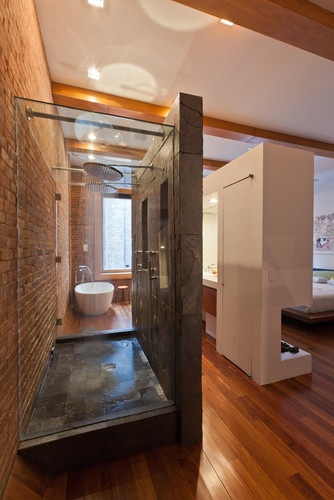 10. Stone and Wood Planks Floors
The combination of smooth stone and wood plank flooring is popular in modern bathroom interiors, creating a luxurious, spa-like atmosphere.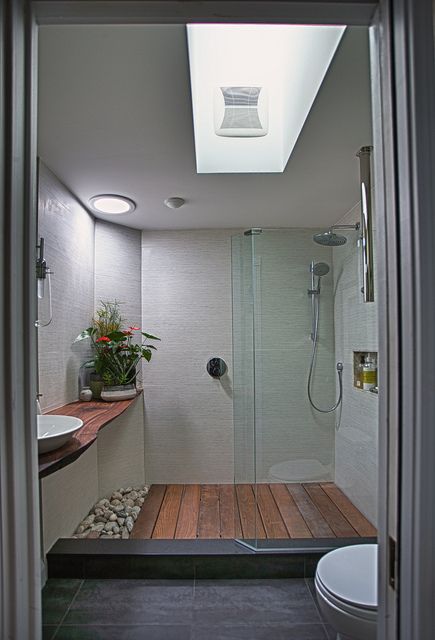 11. Subway Tile Shower Wall
The subway tile pattern has proven to be timeless. Install subway tiles to your shower walls for a vintage vibe.
12. Accent Lightning
Showcase every aspect of your bathroom with accent lights.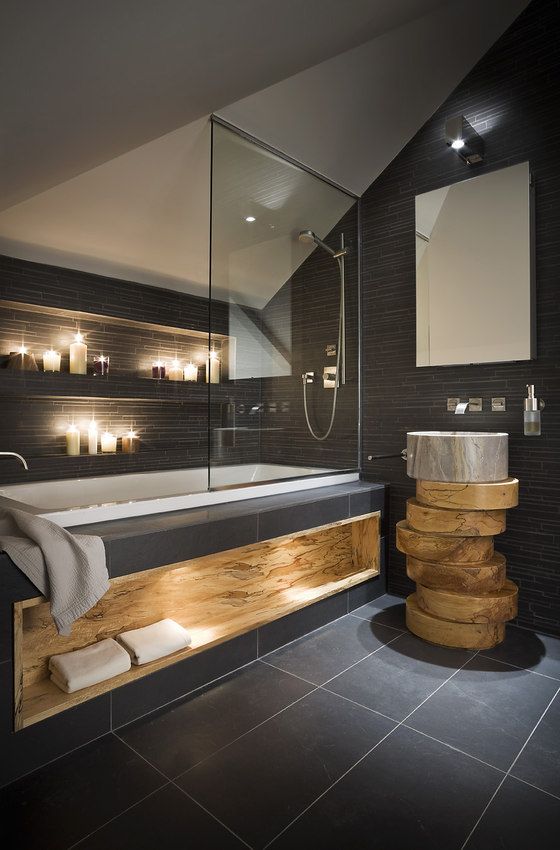 13. Pocket Gardens
Lush and deep forest bathroom ideas and themes are very popular. Grow a pocket garden right inside your bathroom! This idea compliments skylights, open walls and large windows.
14. Red and Black
The combination of two of the strongest colours results to a classic, powerful, and sexy air, perfectly suited for your bathroom.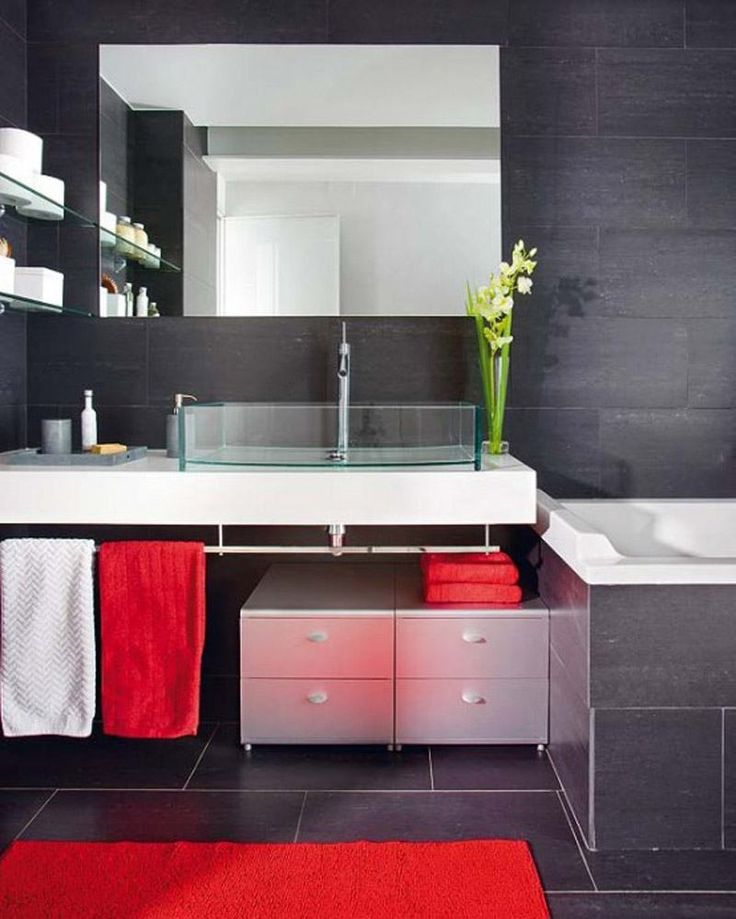 15. Sisal Organisers
Sisal complements the atmosphere of natural and organic wellness and adds a pop of colour.
16. Barn Doors
Barn sliding doors made from recycled wood planks are definitely on trend when it comes to contemporary bathroom interiors.
17. Hexagon Tile Walls
All you need are hexagon tiles to dress up a bathroom wall. The surprising pattern lends some character to an otherwise plain wall.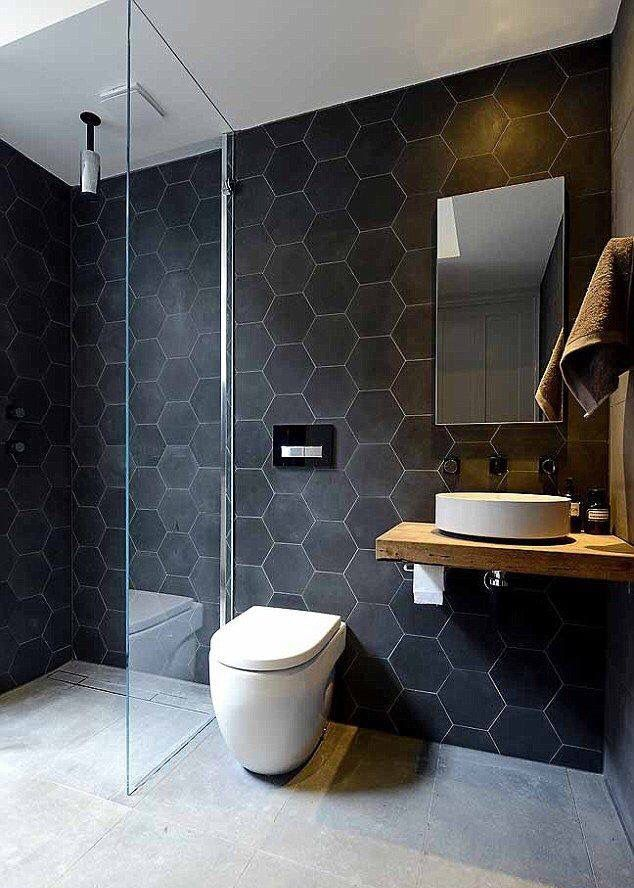 18. Bowl of Succulents
Decorate your bathroom with colourful and interestingly shaped succulents. The deep lush green of the plants inject a refreshing colour to the room.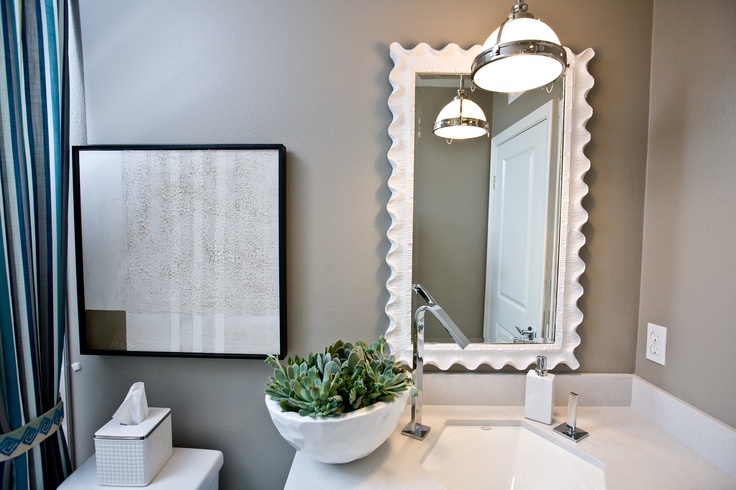 19. Unpolished Wood
Rough unpolished wood pieces are integrated into bathrooms – as towel holders, sink basins, or shower seats, creating a rustic and refreshing aesthetic.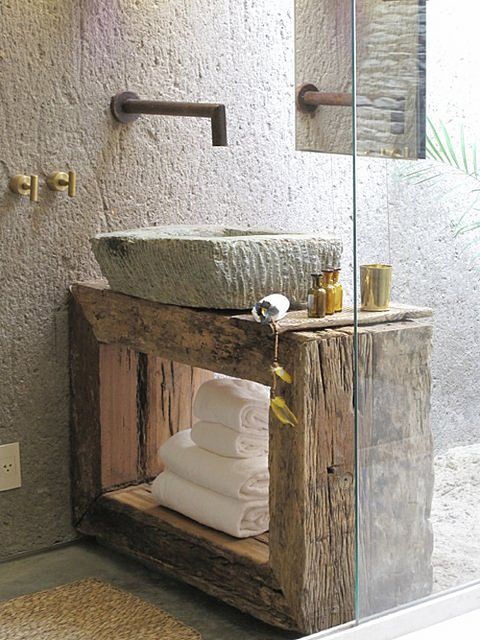 20. Door to the Outdoors
Among the top bathroom ideas is an open wall. Chic bathroom plans includes sliding glass doors that leads to a private garden or balcony.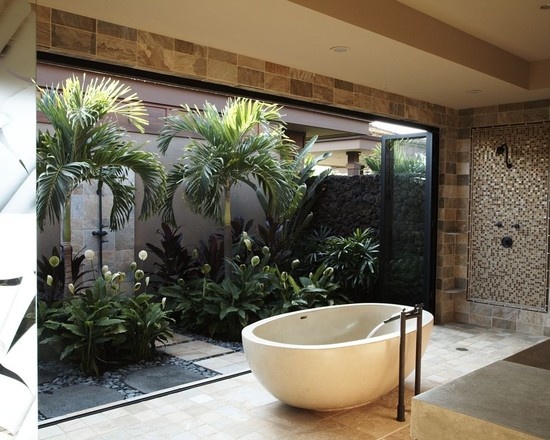 21. Huge Mirrors
Skip the tiles or paint on one wall and replace with a wall mirror. Mirrors reflect light around the room and visually widen narrow spaces.
22. Shower Benches
Instantly turn your regular shower into a spa by simply adding in a shower bench.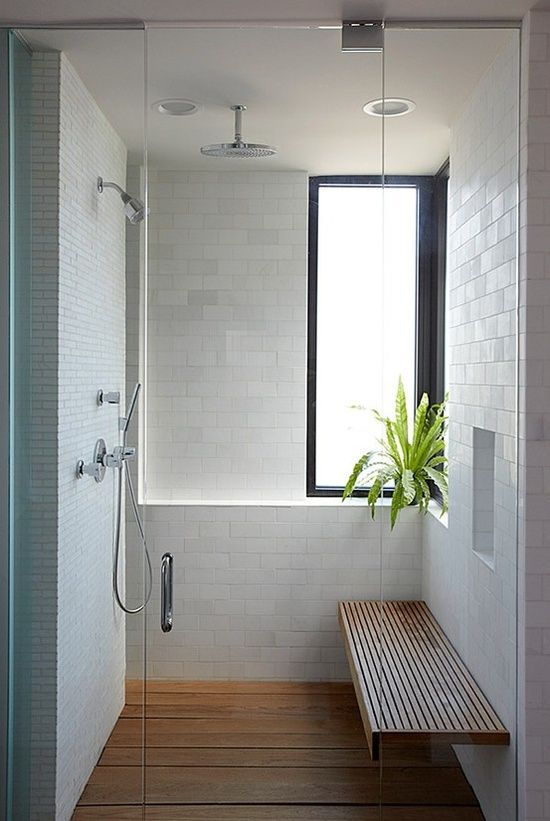 23. Shower Tubs
Can't decide between a shower and a long soak? Have both! That's what shower tubs are for.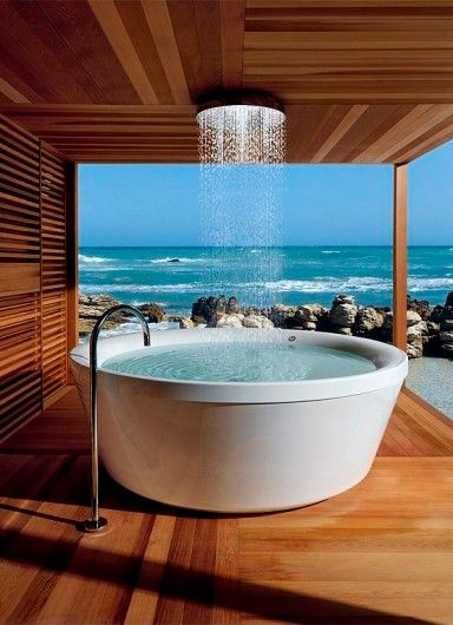 24. Frosted Glass Walls
Modern bathroom walls and doors are either glass of non-existent. For those who still put a premium on modesty, frosted glass is the solution.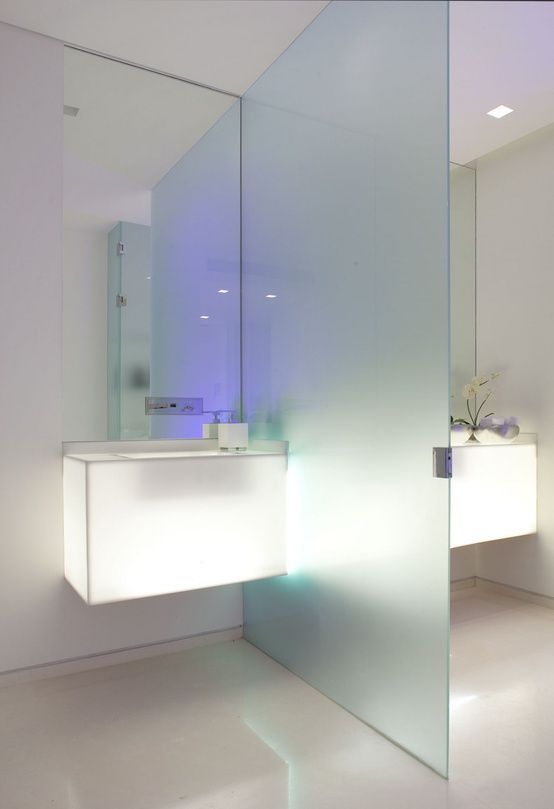 25. Sunken Tubs
One of the most luxurious bathroom ideas is the sunken tub. You can't help imagining long glorious warm baths. A must have!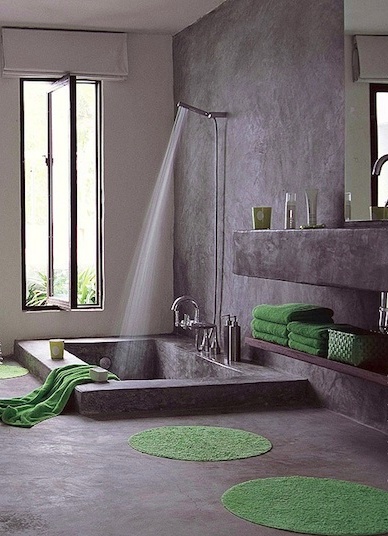 26. Behind the Mirror Lights
Take out the harsh make up lights and opt for the gentler more modern light fixtures behind the mirror.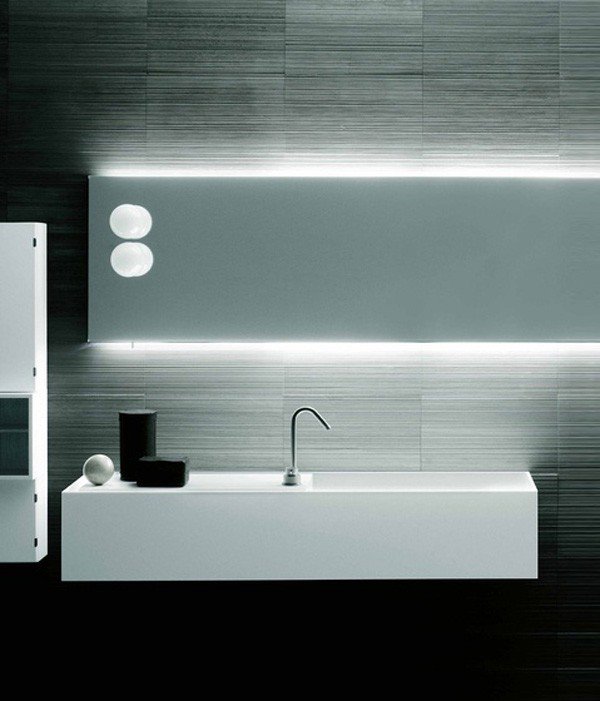 27. White on White
Basic white bathrooms are ultra-classy and polished. Update a white bathroom by taking out the clutter, installing creative storage option and glass shower doors.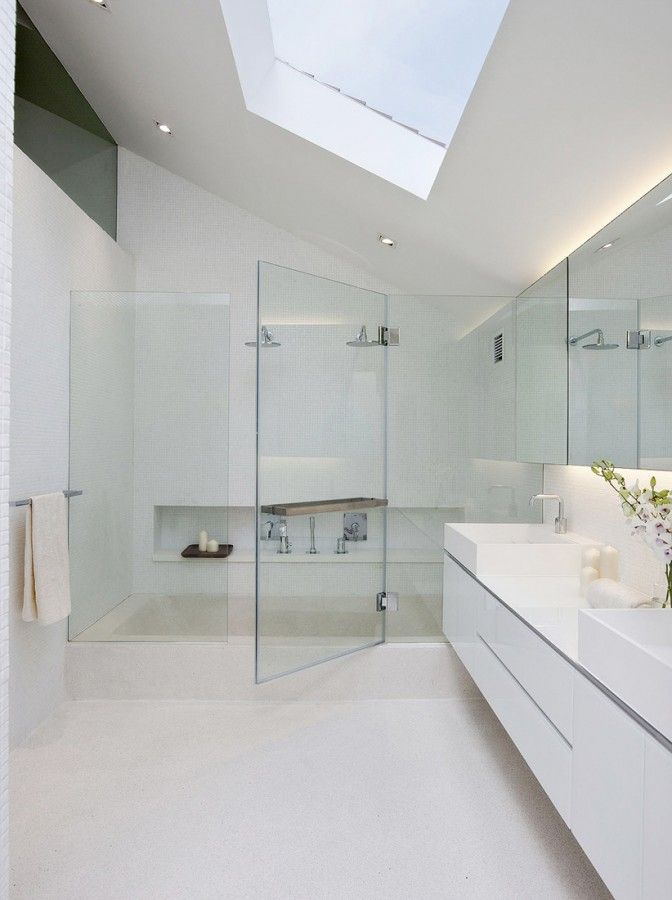 28. Natural Stone Walls
Gone are the decorative ceramic tile walls. Modern bathrooms are all natural stone walls. Use slate, fieldstone, granite, travertine, sandstone, and marble.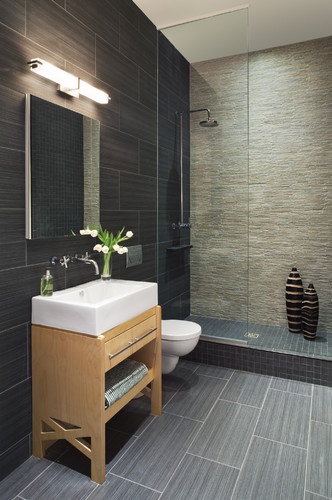 29. Stone and Glass
The clean and minimalist atmosphere of the glass and stone bathroom is gaining popularity.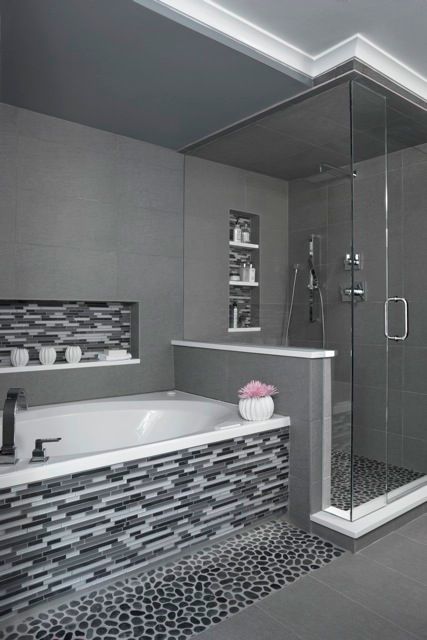 30. Grey and Black
Create texture and depth to the room by using shades of black and grey to create a mesmerising, statement bathroom.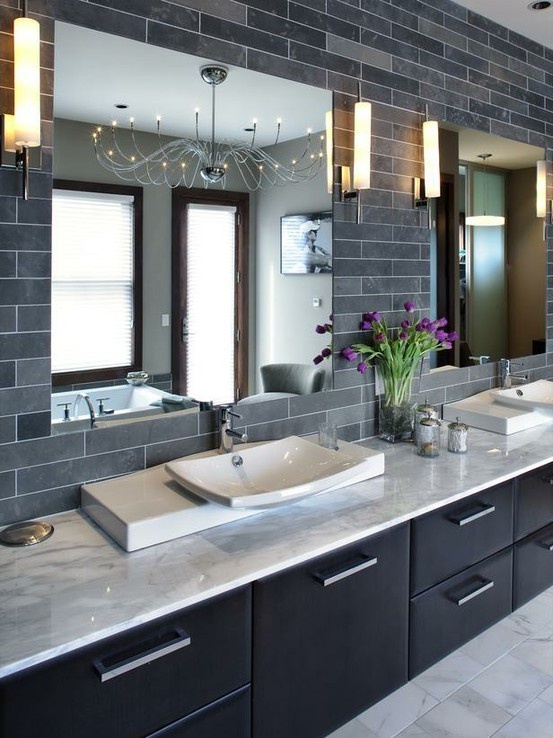 31. Black Wash Basins
The matte black wash basin is gaining popularity among creative bathroom ideas and renovation choices.
32. Pink and Grey
A hint of sweetness and something girly. Spots of pink around a predominately grey colour palette will neutralise the sombre grey room.
33. Freestanding Bathtubs
Who says a tub has to be against the wall? Have yours in the centre, the focal point of your personal space.
34. Hot Stones and Pebbles
Fill in corners and odd spaces with smooth hot stones. Fill glass containers with pebbles and use as stand for your makeup kits or hair brushes.
35. Lighted Wash Basins
You don't have to turn all the lights on if you only need to fetch a glass of water or brush your teeth. The muted lights can also serve as background lighting if you prefer a darker room.
36. Statement Chandelier
Install a statement chandelier to complete your bathroom décor.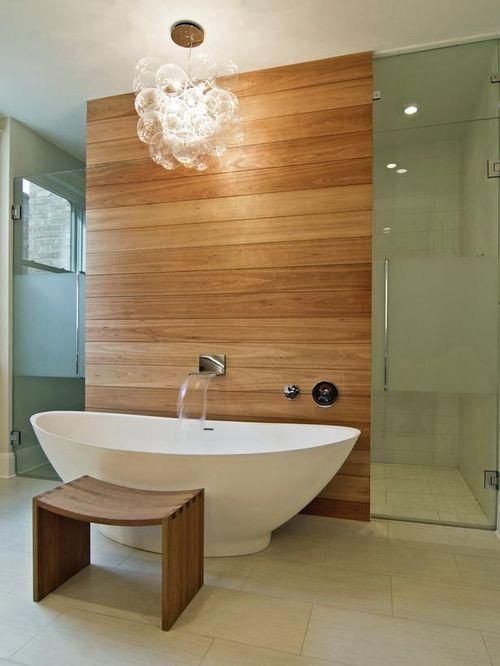 37. Minimalism
Clean lines, no clutter, solid shapes, and blank spaces. All clean and efficient.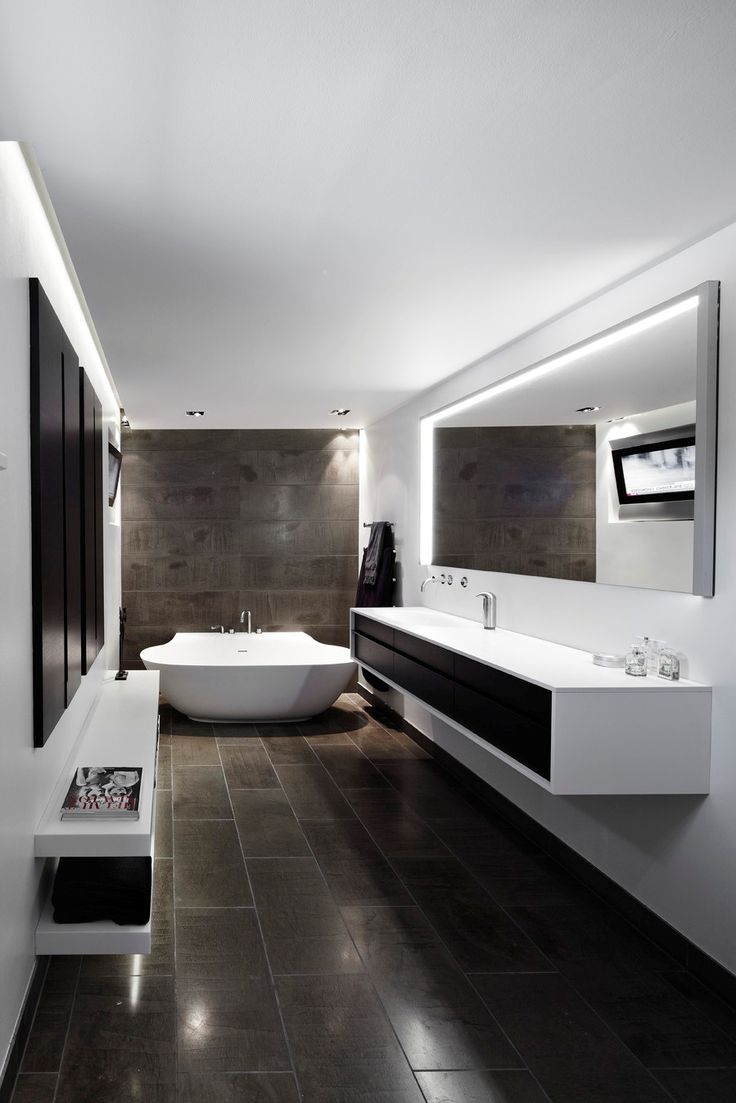 38. A Nook
Bathrooms are your most private sanctuary, so it's important to make it a comfortable space with a built in nook.
39. Basket Organisers
Clear out the plastic hamper baskets and stuffy drawers for towels and clothes. Just bring in basket organisers for a more nature-friendly and cool bathroom.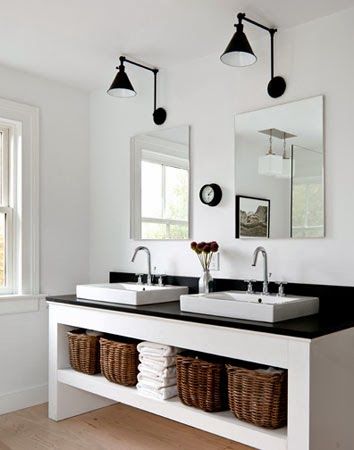 40. Auster Concrete Walls
Plain concrete walls are back in style, creating an understated elegance throughout your space.
41. Monochrome Tile Walls
Playful, colourful, and decorative tile patterns are a thing in the past. Modern bathroom walls are plain and any textures are derived naturally from the wall material.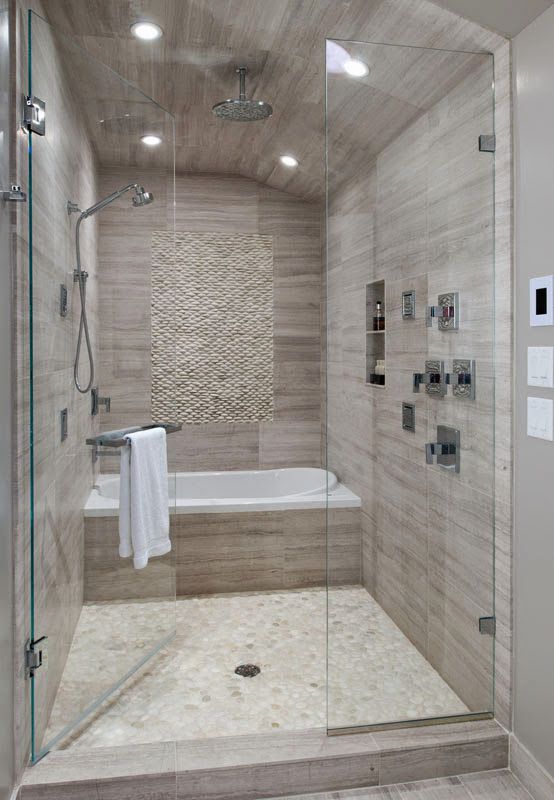 42. Transparent Tubs
Transparent glass tubs are moving from exceptional to mainstream amazing.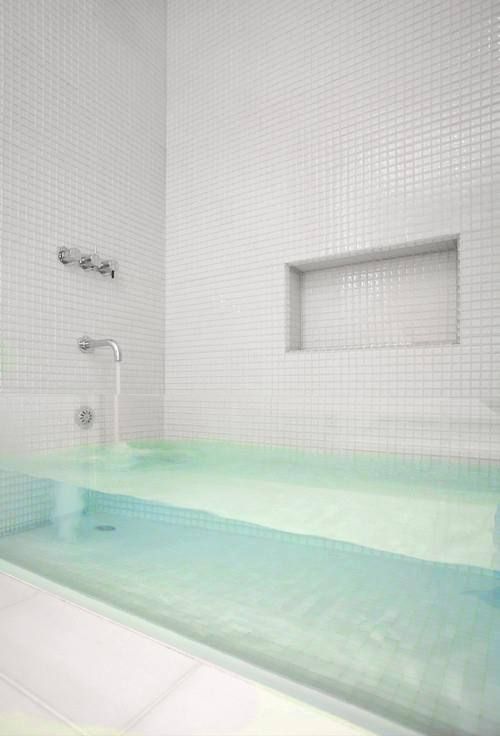 43. Linear Drains
Linear drains are more efficient and popular with open showers and wooden floors, allowing water to be drained quicker.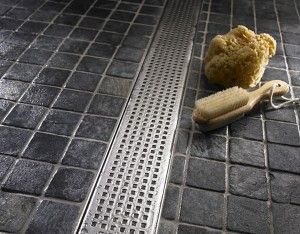 44. Curb-less, Door-less Showers
Shower curtains and curbs are out. Modern shower rooms contain glass panelling or a walled off section.
45. Wall Art
Add a subtle painting with relaxing colours or the classic black and white theme to a bare wall, to enjoy in those long soaks.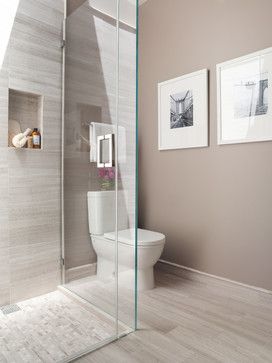 46. Earth Tone Tiles
Add an earthy quality to your bathroom with the use of neutral colours. Grey, black, beige, slate, and muted blues add a calming effect.
47. A Splash of Gold
A few touches of gold against the whites and earth tones go a long way in creating a luxurious quality in your bathroom.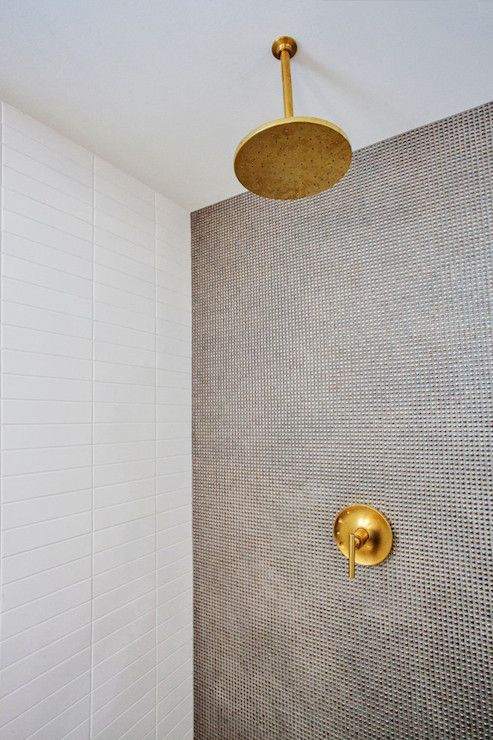 48. Free Hand Taps
Modern taps have sensors so you don't have to use your hands to turn on. This works for better germ control and hygiene.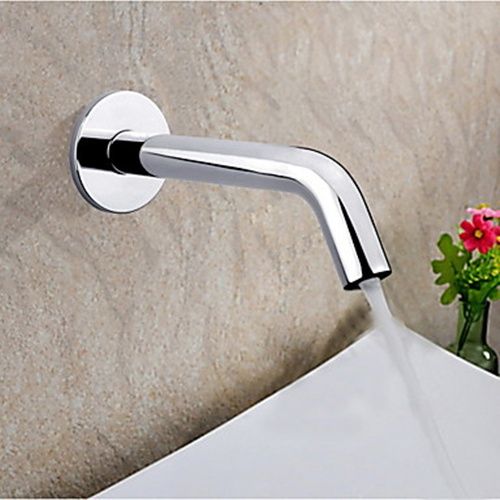 49. Concealed Toilet
Good taste and feng shui dictate that the toilet should be concealed from plain view. Contemporary bathroom styles agree.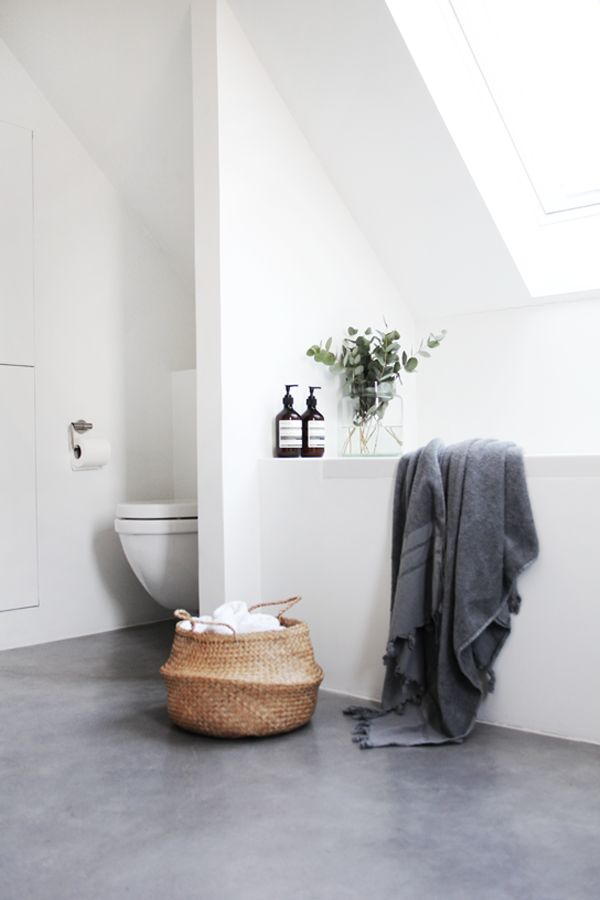 50. Glass Wash Basins
Luminous, clear, tinted, or frosted glass basins are among the favourite bathroom ideas for upgrades.
Do you have any amazing modern bathroom idea that we haven't covered? Why not discuss it on our RenoForum!