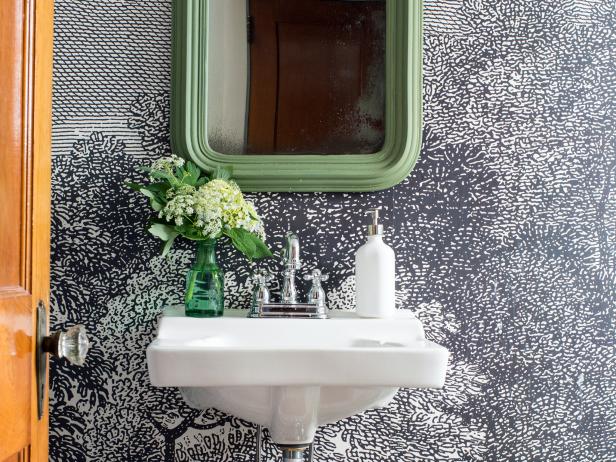 Bold + Bright = Beautiful
Small bathroom color palettes don't have be limited to whites and grays. In a small space, you can use bright, bold colors and patterns that might be overwhelming in a larger room. This small bathroom from Dabito of Old Brand New is bursting with rich colors, quirky patterns and geometric shapes.
Go Small or Go Home
Small bathrooms unfortunately call for smaller fixtures. Instead of overwhelming your bathroom with a large sink and bulky vanity, choose a smaller, vintage-inspired sink. This piece serves its purpose while allowing extra room underneath to stow two small step stools.
Choose a Petite Tub
Yes, you can make a tub work in a small bathroom! This otherwise cramped enclosure is the perfect spot for a small soaking tub. From bright, tribal pattern flooring to towel hooks that double as fun art, this is a great example of a small bathroom that gets everything right.
Create an Oasis
Your bathroom should feel simultaneously invigorating and relaxing. Designer Justina Blakeney's jungalow bathroom is inspired by the baths she experienced on her travels to Turkey and Morocco. The blue color choice came from a family trip to Lake Tahoe.
Break the Rules
"Powder rooms are usually where I really go all out, break all the rules and use materials that might look 'over the top' in larger spaces," says interior designer Melissa Miranda. In tiny powder rooms like this one, small, medium and large wallpaper patterns work well. In larger powder rooms and bathrooms, wall coverings featuring small patterns can look cluttered.
Try an Accent Wall
Even petite bathrooms can benefit from an accent wall such as this forest green wall featuring a vintage map. Instead of making this small bathroom seem smaller, the accent wall adds much-needed color to an otherwise neutral space.
Pick a Patterned Floor
Patterns look great in small bathrooms. Try a quirky patterned floor and see how the small square footage actually works in your favor. For another decor trick that adds interest to your bathroom without taking up space, try brass or gold fixtures instead of more common chrome.
Welcome to the Jungle
A small space, like this powder room, can be a fun place to try out bold colors or patterns. Here, green leafy wallpaper gives the space jungle fever and is imaginatively contrasted by the reds and yellows of the rug.
Light + Airy
Lighten up a small space with white trim, white patterned wallpaper, white shower tile and a sweet, traditional vanity.
Floor-to-Ceiling Tile
Up the style ante and make your small bath look larger by installing a panorama of chic, colorful wall tile.
Show Your Stripes
While vertical stripes might make you look thinner, they can make your bathroom look bigger (and more dramatic!) Copy this nautical-inspired space from HGTV Dream Home 2018.
See More Photos: Powder Room From HGTV Dream Home 2018
Or, Think Horizontal
Adding long, uninterrupted horizontal planks to a small bathroom is also a great way to make it seem larger than it actually is. In this small bathroom, the shiplap walls maximize horizontal space and keep the room from feeling closed in.
Go Big
An advantage of small bathrooms? Smaller prices. "Since the space is usually so small, you can get away with using higher priced materials as you need so little of them," says interior designer Melissa Miranda. Sparkling damask wallpaper creates a stunning setting for a pair of contemporary pendant lights and golden sunburst mirror in this ultra-glam bathroom.
Kick Up the Color
Sometimes bold color is all you need to make a big statement. Although this space is small, the bold salmon-pink walls give it fresh personality. A simple white vanity and sleek fixtures balance the vibrant color.
Keep Clutter Controlled
While you'd never want clothes lying all over the floor even in a palatial bathroom, it's especially important to keep things neat and tidy in a small bathroom like this one from the HGTV Dream Home 2017. The rolling wire laundry basket shown here is a great design choice that blends function and style.
Bring On the Charm
Go for Glass
Walk-in showers are far from your only option for high-style bathing. This bathroom features a subway-tiled tub married with a barely-there glass enclosure. The use of glass keeps the full expanse of the room visible for a spacious feel.
Float It
The vanity is often the largest piece of furniture in a bathroom and therefore has a big effect on how spacious the room feels. In this small WC designed by Marian Parsons, a floating vanity takes up less physical space without compromising style.
Take a Trip to the Country
A yellow, footed tub framed by yellow, floral curtains create a cozy, French country-inspired bath. A wood cabinet, antique door with glass handle and a blue, distressed footstool complete the aesthetic. Design by Sarah Richardson.
Make Shelving Matter
Small bathrooms can't afford to be cluttered. If your bathroom doesn't have space for large amounts of storage, the storage you do have should pull double duty as an accent piece like these sleek natural wood shelves with well-placed essentials and decor pieces.
Lose the Rug
Besides a bath mat, small bathrooms don't necessarily need rugs. Take a tip from this bathroom that's not much bigger than a corner and decorate your floor with a cheeky tile design instead. The message adds spunk without taking up space.
Skirt the Issue
Careful attention to design ensured that this already-small bathroom would not feel closed in. Wine boxes add beautiful, warm color and create easy storage. A skirt for the sink provides extra storage underneath, and the pages of an old book are taped to the wall for inexpensive and effective decoration.
Add Spa-Style Extras
Luxury can be found even in a small space. This bathroom has just a standard-sized tub, but the black tile, glass shower and brass accessories turn it into a retreat.
DIY Your Way to a Fresh Look
No matter how small your bath, gutting and replacing fixtures is an expensive undertaking. Save money by updating what you can yourself. For example, give a builder-basic vanity a trendy cottage-style update by stripping the paint or stain down to the natural wood, then adding a coat of whitewash.
Install a Large Mirror
It's a well-known design truth that mirrors can create the illusion of more space. The floor-to-ceiling mirror shown here is a perfect example of this tactic. The floating marble vanity and soft, clean color scheme further complete the posh, airy look of this bathroom.
Go Quirky
Quirky, colorful book cover wallpaper makes a major statement in this small bathroom. Simple decor, like thin brass wall sconces, a retro mirror and white marble vanity, balance the bold paperback pattern.
Coordinate Fixtures
From the mesmerizing floor tile to the slanted ceiling, this bathroom is nothing but first-rate design inspiration. One of designer Emily Henderson's tactics for decorating this small bathroom (photographed by Tessa Neustadt) was to match metals, from towel bars to faucets, for a more cohesive appearance.
Light It Up
The right lighting choices in a small bathroom can maximize the space and provide the adequate light you need for your daily bathroom routine. This bathroom combines recessed lighting with a retro fixture for task lighting over the vanity.
Add Style Underfoot
The lack of square footage is a good thing when it comes to purchasing new flooring. Even a pricey pick, like this black, gray and white marble hexagonal tile, won't set your budget back too much.
Look Up
Try a bold, dark ceiling color in your small bathroom, such as the black ceiling in this room from Sarah Gibson, designer and blogger at Room for Tuesday. The dramatic shade also helps expand the height of this small bathroom by drawing the eye upwards.
Show Off Your Shower
Fish scale tile is a hot bathroom trend and using it on a small shower accent wall is a great way to elevate your bathroom in a very subtle way. Bonus: Having less wall space to cover also means you'll spend less on this crave-able tile. Finish off the shower with a sleek glass door to strut your shower's new style.
Try Open Shelving
Floating shelves provide storage space for style-boosting accesories and bath necessities while making the room appear bigger.
Eliminate Enclosures
Any kind of enclosure or barrier in a room can divide it up and make the space feel smaller. While that might be desirable in some spaces, it's not what you want in a small bathroom. In this ultra-modern bathroom, the shower has no enclosure at all, which lends a roomier feel.