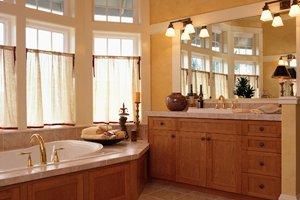 Estimating Bathroom Remodel Costs
Bathroom remodel costs run anywhere from $2,500 to $25,000. Large master baths in luxury homes might even hit or exceed $50,000. The typical home will spend between $6,000 and $15,000 for a complete tear out and replace of all walls, fixtures and appliances.
Labor will run you anywhere from 40 to 65 percent of your total project. Ranges depend on your location. While material pricing doesn't change much from place to place, a higher cost of living means higher wages.
Determining your bathroom makeover budget can be tricky. Consider the following:
Room size.
Regional pricing differences. Expect to pay up to 20% more if you live in an area with high real estate prices.
Quality of materials. A fiberglass shower surround might run only $300. Custom tile work can easily hit $3,000+.
Changing the floor plan. Making your bath larger, like converting a half bath to a full bath costs $5,000+.
Type of fixtures, appliances, counters and finishes you choose. Make a plan that includes both design and budget before choosing what to buy for your bath remodel.
Bathroom Remodel Material Prices
Materials for the average bathroom remodel run anywhere from $2,100 to $9,000. Understanding how those prices break down individually helps determine where best to invest your money and time.
Bathroom Remodel Labor Costs
Bathroom remodeling costs include labor at $50 to $75 per hour. Labor accounts for 40 to 65 percent of your total budget. Always ask for a detailed bid and invoice that breaks out all materials and labor.
You'll probably need a plumber, a general contractor who specializes in bathrooms and kitchens, and possibly other specialists. Those prices break down further:
General contractor fees $300-$400 per day.
Hiring a plumber costs: $1,000-$2,000.
Non-Plumbing Labor: $4,000-$8,000.
"Relocations of plumbing fixtures or changing the layout of the bathroom make the biggest impact on bathroom remodeling costs. It doesn't matter the size of the bathroom, whenever you change location or layout for a bathroom's sinks, tub and toilet, that's where your expenses are skyrocketing."
Cost to Demo a Bathroom
Interior bathroom demolition costs $1,000 to $2,300. Prices can go higher if you're removing and moving walls to create a different footprint. For the experienced DIYer, this is a good place to save money by doing it yourself or assisting the contractor. However, demo can get expensive quickly if you take out a load bearing wall, cut electrical lines or break a water pipe. Avoid the risk by hiring a pro.
Price of Custom-Built vs. Store-Bought Fixtures & Accessories
| Fixtures | Economy or Off-The-Shelf | High-End or Custom-Built |
| --- | --- | --- |
| Toilet | $100-$600 | $1,000-$6,000 |
| Sink | $100-$450 | $700-$4,000 |
| Tub | $200-$900 | $1,000-$6,000 |
| Vanity Cabinet | $200-$800 | $1,000-$6,000 |
Determine your total budget for fixtures and plan accordingly:
Economy and off-the-shelf: $500-$2,000
Mid-grade: $1,500-$3,000
Luxury and custom: $4,000-$22,000+
Permits
Building permits cost $350 to $1,800. Price is location dependent so contact your local building code enforcement or permitting agency for details. In most cases, your contractor takes care of all permitting and includes this in your project price.
Rebath Cost vs. Bath Planet & Other Top Companies
| Brand | Typical Prices (materials + labor) | Services |
| --- | --- | --- |
| Re-Bath | $5,000+ | Complete bath remodel services |
| Bath Fitter | $5,000+ | Tub & shower surrounds |
| Bath Planet | $5,000-$15,000 | Tub & shower surrounds |
| Home Depot | $5,000-$25,000+ | Full bath remodels |
| Lowes | $5,000-$25,000+ | Full bath remodels |
| Luxury Bath | $5,500-$9,000 | Tub & Shower systems |
Get Quotes For Your Remodel Project
Average Cost of Bathroom Remodeling Per Square Foot
You'll pay an average of
$125 per square foot
for a bathroom remodel. However, materials might push that price up or down. Luxury appliances and finishes can quickly double or triple your budget.
| Bathroom size (square feet) | Total Price |
| --- | --- |
| 3×5 (15) | $1,500-$2,250 |
| 6×4 (24) | $2,400-$3,600 |
| 4×8 (32) | $3,200-$4,800 |
| 6×6 (36) | $3,600-$5,400 |
| 5×8 (40) | $4,000-$6,000 |
| 5×9 (45) | $4,500-$6,750 |
| 7×9 (63) | $6,300-$9,450 |
| 8×10 (80) | $8,000-$12,000 |
| 9×10 (90) | $9,000-$13,500 |
Estimating Master Bathroom Remodel Costs
Master bath remodels run $10,000 to $25,000. The average homeowner can expect to pay about $18,000 for a complete master bathroom renovation. This includes a separate tub, shower, double vanity and larger space for cabinets and fixtures.
Small Bathroom Remodel
Small bathroom remodels cost $1,500 to $15,000. Simple cosmetic upgrades like paint, fixtures and lights run from $1,000 to $3,500. A complete tear out and replace runs $5,000 to $15,000.
Small bathrooms are often less expensive to remodel than larger ones because they have less square footage. This means fewer materials involved to make them look brand new and less time needed to install them.
Cost to Expand a Bathroom
It might cost $1,000 to $15,000 or more just to expand the size of your bathroom. The variables involved in each unique space can make each project budget different. You'll need to consider rerouting electrical and plumbing, adding structural headers and adding insulation.
Bathroom Disability Remodeling Cost
It'll cost anywhere from $1,500 to $9,000 to remodel a bathroom for handicap accessibility for people with disabilities. Each upgrade is circumstance dependent. For example, for one individual you may need to install railings and widen the doorway, for another you might install a walk-in bathtub.
Full Bathroom Remodel Cost Breakdown
| Installation (materials + labor) | Low Range | Mid-Range | High Range |
| --- | --- | --- | --- |
| Install bathtub | $400 – $1,500 | $2,600 – $4,100 | $6,000 – $8,000 |
| Install cabinets | $1,200 – $3,500 | $4,700 – $7,000 | $8,000 – $13,000 |
| Install countertops | $900 – $2,000 | $2,800 – $4,100 | $5,000 – $6,500 |
| Install flooring | $800 – $2,000 | $2,500 – $3,600 | $5,000 – $7,000 |
| Install lighting fixture | $120 – $900 | $1,100 – $1,700 | $2,500 – $4,000 |
| Install shower | $450 – $2,000 | $3,000 – $4,800 | $6,000 – $10,000 |
| Install sink | $190 – $900 | $1,400 – $2,300 | $3,500 – $6,500 |
| Install toilet | $130 – $250 | $340 – $480 | $550 – $780 |
Low range: economy grade or basic fixtures from home improvement stores.
Mid-range: higher end home improvement offerings and specialty stores.
High-range: custom made, one-of-a-kind or specialty order items.
Bathroom Cabinet Costs
Bathroom cabinets cost $250 to $3,000 or more. Consider matching your kitchen and bath cabinetry when remodeling one or both. For a budget-friendly method, try refinishing them instead of buying new. Not only is it a fraction of the price, but most pros can match new installs with existing boxes.
Shower Remodel Costs
Shower remodeling costs $1,000 to $15,000 depending on the level of materials and time. On the low end you'll find premade surrounds for a bathtub and shower combination, standard in many homes. For the luxury master bath, consider installing a separate shower and soaker tub separately. A walk-in shower remodel costs $5,000 to $15,000.
The economical choice are premade kits which range anywhere from $200 to $8,000. Companies like BathWrap and Bath Fitter costs vary depending on the styles you choose. Most provide free estimates.
Bathtub Remodel Prices
Installing a bathtub costs $1,000 to $5,500 or more. There are many options from cast iron to fiberglass. You can also refinish a tub using a service or a DIY kit, including the following:
Miracle method services costs $500-$650 for the tub or $1,000-$2,000 for the tub and surround. The price includes all materials and labor.
Rust-Oleum kits run as little as $25. These kits mimic the miracle method for DIYers.
Cost to Redo Bathroom Floor
You'll spend anywhere from $100 to $3,500 redoing a bathroom floor. Custom luxury installations can reach $7,000. Floor installation pricing ranges depending on what materials you use.
Tile: $500-$3,500.
Linoleum: $100-$500.
Vinyl Plank: $150-$800.
Wood plank: $200-$1,700.
Electric & Plumbing Costs
You'll spend anywhere from $100 to $1,000 or more redoing or installing new plumbing or electrical fixtures. Any issues with your plumbing or electricity during the renovation raises the bill. Check both electrical and plumbing before starting. However, you can't plan for all issues that might arise during a renovation.
Including both labor and materials, expect to spend the following on electrical or plumbing upgrades:
Vanities, Countertops & Cabinets
Vanities, countertops and cabinets generally run $500 to $1,500. However, luxury and custom work in large rooms can quickly exceed $10,000. For most projects, a vanity, which includes both the counter and the cabinet, is used.
Average Bathroom Remodel Cost by Location
| City or State | Average Cost Range |
| --- | --- |
| New Jersey | $8,000-$18,700 |
| Los Angeles | $12,000-$25,600 |
| Atlanta | $7,000-$18,000 |
| San Francisco/Bay Area | $11,000-$25,500 |
| Florida | $5,000-$12,000 |
| Minnesota | $5,500-$12,600 |
| Las Vegas | $7,300-$16,000 |
| Massachusetts | $5,600-$12,600 |
| San Diego | $10,000-$23,500 |
| Chicago | $5,600-$13,600 |
| Seattle | $6,400-$15,300 |
| Northern Virginia | $5,500-$14,000 |
| Boston | $6,800-$15,600 |
Cost data is based on actual project costs reported by HomeAdvisor members.
Bathroom Renovation Costs
Bathroom repair costs run anywhere from $1,500 to $20,000 or more. Renovations and remodels differ significantly.
Renovating, or rehabilitating, refers to the process of repairing something to make it like new again. This includes fixing damage, repainting and resurfacing. Your fixtures and configuration stay as is.
Remodeling generally involves replacing or upgrading to new fixtures, tubs, showers and tile. This process often also involves new layouts and design work. The price of replacing a bathroom depends heavily on the size and quality you want, but it's more expensive than renovating
Insurance sometimes pays for repair work, depending on the cause. Remodels are almost always out of pocket expenses entirely on the homeowner.
Typical Cost to Update Bathroom
Bathroom makeovers cost anywhere from $300 to $3,000. Typically, updating entails simple and economical changes to gain dramatic results. Common upgrades include:
A fresh coat of paint.
New faucets.
Cabinet hardware.
Addition of a new sink.
New counters.
How Much Does It Cost to Remodel a Bathroom Yourself?
You'll spend $3,000 to $8,000 on the typical remodel. Anywhere from 40 to 65 percent of a bath upgrade cost comes from labor. However, doing any project yourself means no insurance and added fees if something goes wrong. Hire a professional for any work you're not comfortable doing, such as the plumbing and electrical. Consider the pros and cons of DIY vs professional bathroom remodeling.
Bathroom Remodel Contractor's Work
Bathroom remodels provide 60 to 70 percent resale returns as a home improvement project. However, this project isn't cheap. It is essential to plan your remodeling ideas ahead of time. Then, hire a remodeling contractor for the job. Ask questions, set realistic expectations, get accurate cost estimates and budgeting from the start. Also spend time learning how to work with a bathroom contractor.
A remodel involves various areas of expertise: construction, plumbing, electrical and lighting. Get value for your money. Avoid additional repairs and maintenance from their mistakes. Talk to your contractor at the start of the project about:
How they deal with mistakes, damage and repairs.
If they offer an expressed warranty or guarantee.
If they have any previous reference work that demonstrates their skill.
How they bid the project: by the hour, square foot or as a total.
Other fees that might get tacked on, such as mold removal inside of walls.
See our full list of bathroom contractor questions to ask.
Remodeling Quote & Schedule Agreement
As part of a quote and schedule agreement, experienced contractors give you:
A written schedule.
An itemized list of all materials, labor, permits and any other costs.
A list of the construction tasks they'll perform and prices for each.
Deadlines for each task.
Agreements for penalties if deadlines aren't met.
This helps prevent disagreements along the way. It also gives you clear expectations about how long the project should take to complete.
A few other points to remember:
Get everything in writing. This includes a payment schedule, contract with total amounts, guarantees and warrantees.
Typically, don't pay anything up front. Only pay for work completed. Often, you'll pay at milestones, such as the halfway point of work.
Always check licenses and previous work. Don't just take the contractors word. Look at reviews and talk to previous clients. HomeAdvisor prescreens all contractors.
FAQ
How much does a one-day bathroom remodel cost?
A one-day bathroom remodel costs anywhere from $5,000 to $15,000. It typically involves installing a new shower kit, toilet, sink and vanity.
How much does it cost to gut a bathroom?
It will cost you $1,000 to $2,000 to completely gut or demo a bathroom.
How much does a high-end bathroom remodel cost?
High-end bathroom remodels cost anywhere from $15,000 to $25,000 or more.
What does it cost to redo a condo bathroom?
Redoing a condo bathroom falls in the typical range of $7,000 to $15,000. Make sure you check with your Homeowners Association (HOA) prior to making any changes.
How much is it to repair a shower room?
Repairing a shower room costs $200 to $5,000 depending on the type and extent of damage. For example, repainting might only run a couple hundred while replacing a fiberglass tub and surround can hit $5,000.
What does it cost to refinish or retile a bathroom?
Retiling a bathroom shower costs $3 to $20 per square foot . Expect to pay the same for floors and backsplashes. Custom artistic work, such as mosaics in your surround, can run as high as $100 per square foot.
How much does a mobile home bathroom renovation cost?
A mobile home bathroom renovation typically comes in at $3,000 to $7,000. However, your imagination and budget are really the only limiting factors.
Bathroom Remodeling on a Budget
Inexpensive bathroom remodeling helps keep prices down and returns high. A few tips to help you save some money include:
Do the demolition yourself. Ripping out old tile and tubs isn't fun and takes and eye for detail to avoid damaging pipes or electrical work. But it'll save you about $1,000.
Do your own painting. Painting is a great DIY project. It takes a little skill for a professional finish, but it's forgiving if you make mistakes.
Buy off-the-shelf fixtures in the clearance aisle. They might not be high end, but they'll look new and help freshen up the overall look.
Reuse sinks and toilets. If it isn't broken, try reusing it instead of buying new.
Resurface tubs, counters, cabinets and tile. You can cut costs in half by resurfacing rather than buying new.
For better ROI, get custom tile. If it's in your budget, put in a tile surround for the tub or shower and floor. You'll get a better return on the investment, especially if you plan to sell.
Bathroom Remodeling Ideas and Inspiration
Ask yourself these questions before planning.
Why do you want to remodel the bathroom?
Is it to modernize the functionality?
To update the style and color?
Who is it for: female, male, adult or kid?
How will it flow with the rest of the house based on the style you choose?
Does it fit your lifestyle? How you plan to design it reflects both your aesthetic taste and lifestyle, and all of this impacts your costs and price range for accessories.
Maybe you live a fast-paced lifestyle where you never have time for more than a quick shower in the morning.
Perhaps you like a long, leisurely, relaxing soak in a jetted tub at night.
Ask yourself if the design style should be classic or contemporary, mid-century modern or Bohemian chic.
Approach your contractor with many examples of your remodel ideas, including pictures from home decor magazines, links to design ideas on the web and paint chips from the hardware store. The more information a contractor has ahead of time, the more your bath remodel ideas will turn out exactly how you want it.
Here are some examples that might help you define how to remodel your bathroom:
Modern Bathrooms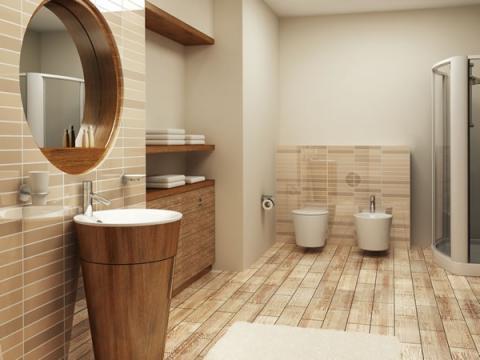 by Planet Home Remodeling Corp., a Bathroom Remodeler in Berkeley, CA. The average cost of a bathroom remodel in Berkeley is approximately $11,000 to $26,000.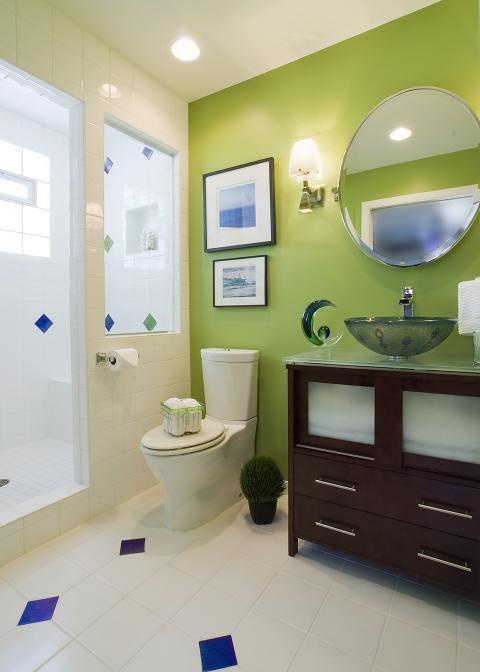 by Luxury for the Home, a Bathroom Remodeling Contractor in Milwaukee, WI. The average reported cost of a bathroom remodel in Milwaukee is $7,000 to $15,500.
Small Bathroom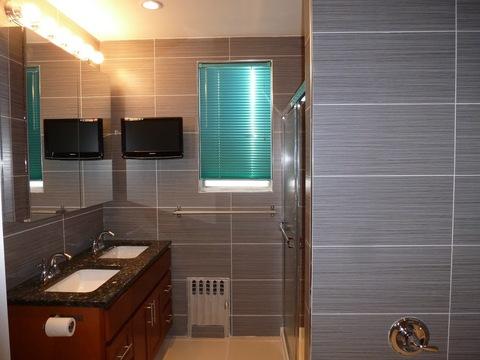 by Beyond Designs and Remodeling, Inc., a Bathroom Remodeling Contractor in Brooklyn, NY. For most homeowners in Brooklyn, the average cost for a bathroom remodel is approximately $7,000 to $16,000.
Traditional Bathroom Remodel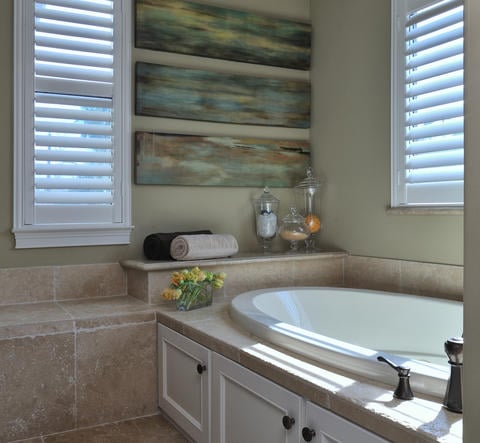 by Luxury for the Home, a Bathroom Remodeler in Dallas, TX. The average cost to remodel a bathroom in Dallas is approximately $5,000 to $14,000.
Eclectic Bathroom Remodel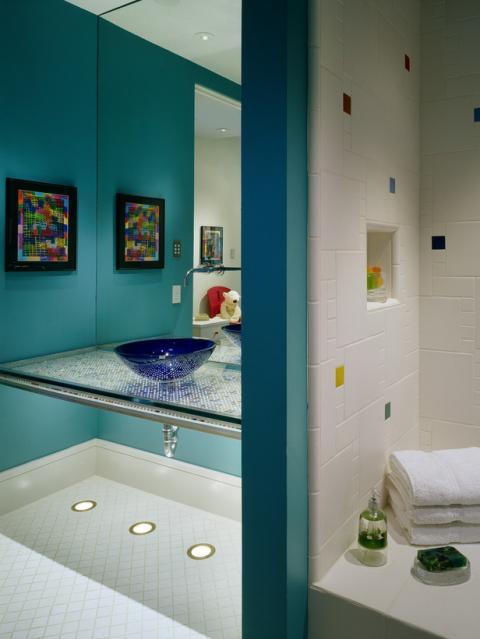 by Luxe Interiors, a Bathroom Remodeling Contractor in Denver, CO. The average cost of a remodeled bathroom in Denver ranges from $4,500 to $12,000.
Contemporary Bathroom Remodel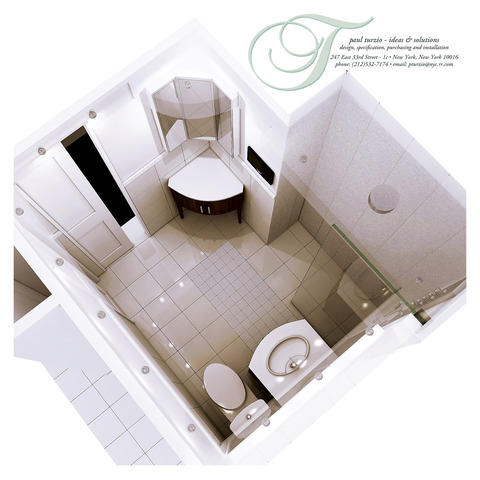 by Ideas and Solutions, a New York Bathroom Remodeling Contractor. And the average cost of a bathroom remodel in New York City is roughly $9,000 to $16,000.